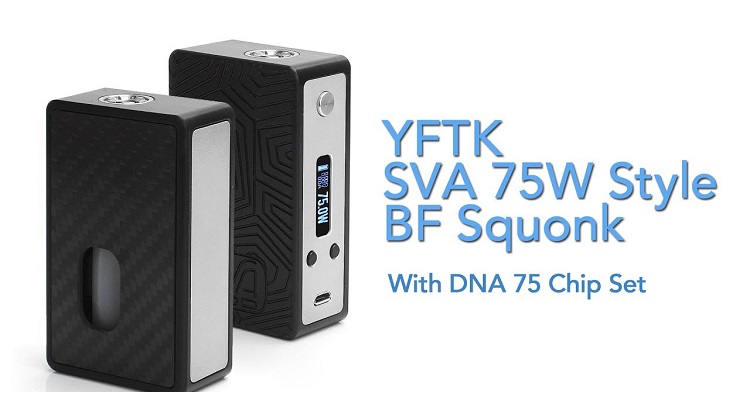 SVA Penguin Clone by YTFK – Real DNA75!
Finally, an SVA Penguin clone mod hits the market, but here's the shocker: it has a real DNA75 chip inside!
This is both good and bad news, and I'll tell you why in the video.
The SVA Penguin clone is a squonking mod. If you don't know what that is, see my "Squonking 101" post and video for a great introduction. In fact, the authentic is one of the most popular and sought-after squonk mods, made in Italy where squonking is king.
The authentic SVA Penguin is very difficult (if not impossible) to get at RRP from the modder. This YTFK SVA Penguin clone costs $89 and it available on most sites like Fasttech and 3FVape.
Why is the price high for a clone? Because of the authentic DNA75 board. In fact, the price puts it in the same range as the HCigar VT Inbox which also runs on the DNA75, but comes with an atomizer.
Here are the basic specs for the SVA Penguin Clone:
Delrin and carbon fiber construction

Manual-adjusted 510 connection

6.8ml Lukkos Silk styled silicon soft bottle

Authentic Evolv DNA 75 chipset

Variable Wattage: 1W to 75W

Temperature control: 200'F~600'F with default Evolve presets

Powered by 1 x 18650 battery (not included)

26.7mm X 80.5mm X 49.7mm
YTFK SVA Penguin Clone: Pros
Overall good build quality –

Except for the loose negative contact pin, everything else with the SVA Penguin clone is good. Not great, but good. Clicky buttons with no rattle, nice deep engravings, solid USB port from the DNA75, and acceptable internal finishing for the Delrin.

Nice compact size –

Not as small as the

Frankenskull clone I reviewed

, but smaller than the

VT Inbox

and my

DPM Li-Mo

mod. In short, it's just the right size.

Excellent Lukkos Silk clone bottle –

The best part of this SVA Penguin clone is actually the bottle. In

my video about squonk bottles

, I showed you various different bottles that cost up to $15 each. This

Lukkos Silk clone

, which is better than anything I have tried, costs about $4 purchased separately.

Fits 24mm RDA –

No overhang for up to 24mm RDAs, which is great. You'll find lots of options for a squonk RDA. The manual-adjusted 510 will make a connection with anything, but is a bit more of a hassle if you change atomizers regularly.

Fits most other squonk bottles –

You can fit a Supersoft, Cappy V4, or ModMaker BF bottle in here is you don't like the included bottle.

DNA75 board –

This is a pro or con depending on how you vape. The DNA75 board works really well for a single coil setup on your

squonking atomizer.

For a dual coil build, you may run into the

"Weak Battery" warning

depending on your build.
YTFK SVA Penguin Clone: Cons
Loose negative contact –

Upon close inspection, there is some superglue in there. However, the glue they used as not enough to fix the contact to the smooth Delrin surface. In fact, I tried to glue it back but again, my superglue didn't work on the smooth Delrin.

High price –

This really depends on how you look at it. It's cheap for a DNA75 squonk mod, but expensive for a clone mod. As I said the DNA75 can justify the price a little. However as I said in the video I recommend the

VT Inbox

over this SVA Penguin clone because of the price.
So what's my verdict on the SVA Penguin clone by YTFK?
As I said in the video, this clone has me confused. it's priced almost like other DNA75 mods. The build quality is good, with room for improvement. Perhaps I'm going easy on it because it's a clone?
If you do not have a squonk mod yet, check my list of squonk mods and you will find many other authentic mods that are better value than this SVA clone.
If they did not have the SVA logo in there, it would be hard to call this a clone. This is because there are tons of authentic high-end squonk mods that are basically black Delrin boxes.
In fast, I do kind of think they should have not used the SVA logo, and gone with a different engraving. Then. this would have been a legit mainstream squonk mod and a lot of people would be open to trying it out.
If you already have a good regulated squonk mod, and you love the SVA-type Delrin box with carbon fiber panels, then you might want to give this SVA Penguin clone by YFTK a try.