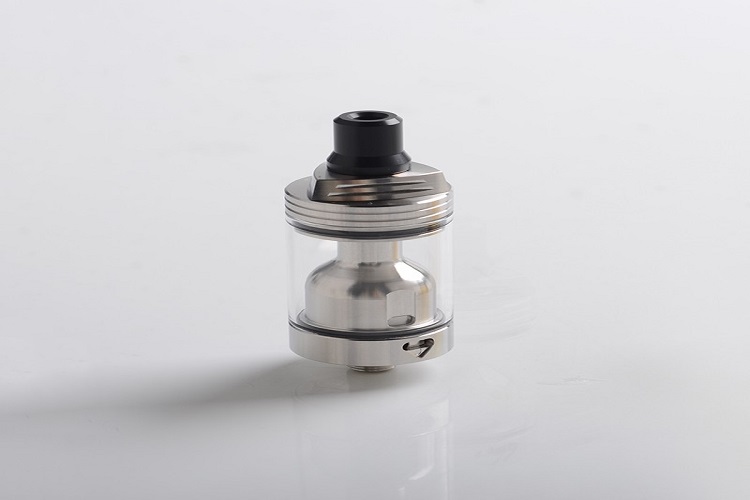 Skyline RTA Clone by Coppervape – With 10 Airflow Options!
The Skyline RTA clone by Coppervape takes aim at the most popular rebuildable tank of early 2017 – the Skyline by ESG / E-smoke Guru.
One one batch of the Skyline RTA was released, and those who were lucky enough to get it are not selling it at around $250. That is double the retails price, and most people seem to think its a fair price.
So whats so great about the Skyline?
I got the Skyline RTA clone to find out exactly that, before I decide to spend money and time hunting down an authentic Skyline.Here are the basic specs of the clone:
316 Stainless Steel construction
22mm diameter, 4 ml juice capacity
The "Skydeck" comes with 2 "airdiscs" that limit the airflow
You get one MTL disc and one direct-lung disc
2mm post holes, single-coil deck
SS drip tip and one Delrin (POM) driptip
Juice-flow control by turning the topcap
Skyline RTA Clone: Pros
Simple and elegant – No bells and whistles on this tank. Its streamlined and simple. In fact it looks like a very old school type of design. The 22mm is not an issue for me, as this is the most common diameter for flavor-chasing atomizers.
Great quality – All the threads are smooth and well-machined. The glass feels solid and no chips. The peek air disks fir perfectly.
Easy to build – The single-coil build deck is very easy to build on, and extremely easy to wick. It's a very forgiving atomizers, and it's not easy to have it leak on you from improper wicking.
Fantastic flavor – I was able to get fantastic flavor from the Skyline RTA clone by Coppervape from my first build. I kept it with me the entire weekend and got a few thousand hits from it before I had to clean it up for the review.
Unlimited airflow – You can buy 8 more airflow discs separately, giving you an unlimited combination of possible builds. Each disk is easy to insert, although you have to get your coils out to remove them.
Skyline RTA Clone: Cons
Sharp knurlings – The topcap knurlings are pretty sharp. You won't realize how sharp it is until your topcap stops moving about freely, because of the issue I mention below.
Weak top o-ring – I didn't mention this in the video as it worked fine initially. But over time, I've had problems with the top o-ring that controls the juice flow mechanism. As a result, it became very difficult to turn the topcap either direction. I took the o-ring out and it works perfectly.
Bottom airflow issue – The bottom airflow cannot be adjusted when you have the Skyline on your mod. You need to loosen the RTA or remove it to move the AFC ring. I'm pretty sure this issue is only with the clone.
Condensation in the tank – Because of the way the juice flow control works, you will get some condensation seeping back into the tank when you close and open the juice flow controls. I've only noticed this after the video, so again it was not mentioned.
Overall, I'm loving this Skyline RTA clone by Coppervape. Since I got the Kayfun 5, my taste in rebuildable atomizers have revolved around it. Only the Skyline comes close to the tight flavorful vape I can get from the Kayfun 5.
But of course, the Skyline RTA clone can be any atomizer you want. Since you can change the air discs, you can make it like your favorite MTL setup, or remove the air discs completely to get a wide open airflow.
For the price, this is a no brainer. Keep in mind like most clones, the o-rings on this may act up after a while. You will need to swap them out if your topcap becomes rigid and doesn't turn freely.
Get The Coppervape Skyline RTA Clone Here