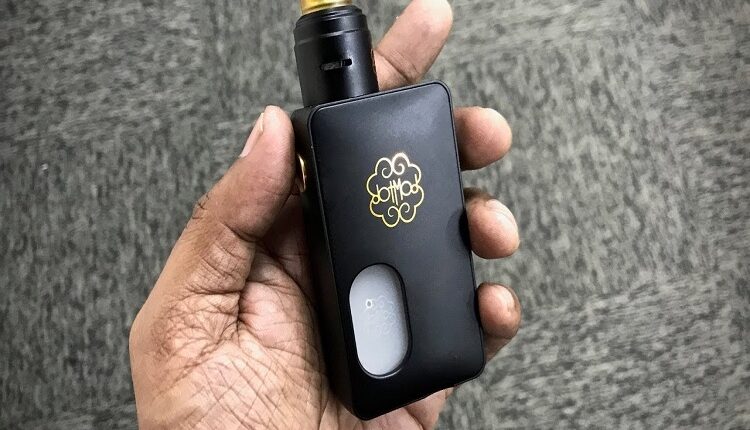 DotMod DotSquonk 100W Review
It wasn't that long ago that I reviewed the DotSquonk Mech mod, but today I'm going to show you the new DotMod DotSquonk 100W regulated mod in all it's glory.
This mod was sent to me by DotMod for the purpose of the review, and I am glad to get the black version.
On the surface this may look just like any other DotMod product I reviewed in the past – the DotMod 300w mod for example.
This is by design! For whatever reason, all DotMod products complement each other, and look almost identical to each other.
That aside, the DotSquonk 100W is a really good regulated squonk mod="_blank" rel="nofollow" href="https://www.geekayvapes.com/go/therionbf?akl=true&source=shorty&medium=referral&campaign=keyword_conversion&content=post_3726&term=squonk mod">squonk mod, filled with unique design twists and fine details you would appreciate.
Here's the basic information you need to know about the DotMod DotSquonk 100W:
Anodized aluminium

body, available in many different "DotMod colors"

Dual removable panels that are simple – great for aftermarket door designs

8ml

soft silicone bottle with proprietary feeding system, two included

Capable of

100W

in power mode, includes bypass mode

Temperature control in

Ni/Ti/SS

with wattage control

Powered by a single 18650 / 20700 / 21700 battery

Firmware upgradeable, comes with USB port

COncealed buttons and USB port beneath the door
Ok, now let's get on with the actual review for the DotMod DotSquonk 100W..
DotMod DotSquonk 100W: Pros
Triple compatibility –

You can use an 18650, 20700 or 21700 battery in here, and they all work great.

Nice size for a 21700 –

It is surprisingly small and comfortable, no doubt due to the design language used by DotMod for all their mods. The contours and curves makes it easy to hold and a pleasure to use.

Gorgeous look & feel –

If you have never owned a DotMod product, you would be shocked by how polished this mod is, in terms of finishing quality, fit and construction. DotMod has design and looks down to an art. You will not be disappointed.

Great value for money –

Taken as a whole, you get great value for money. A polished, incredible product that looks great and performs well.

Simple feeding system –

Although the bottle system is proprietary, it works well. Without the need for a tube, you maximize the available space. I've never had any leaks with their bottle system.

Fits 24mm RDAs nicely –

As opposed to the DotSquonk mechanical mod, this one sits a 24mm RDA perfectly with zero overhang.
DotMod DotSquonk 100W: Cons
Concealed buttons & USB –

The concealed buttons definitely give the DotSquonk a killer clean look. However, when you are first setting up your RDA with a brand new coil, or when swapping RDAs, this is a hassle. Even charging via USB is a hassle since I need to remove the door.

Unproven board –

Well, actually they have used the same proprietary board in their earlier mods. However, the really hardcore user would miss the features available in DNA and YiHi (or even a Dicodes) board. For regular power mode users, there's nothing to complain about.
In the video I also reviewed the DotRDA 24mm – but really this review is for the DotMod DotSquonk 100W. So I will not get into the RDA for the written review. Although it was not my favorite RDA, it is a decent product.
Overall, I was more impressed by the DotMod DotSquonk 100W than I had been for the DotSquonk Mech or the earlier DotMod 300W incarnation.
My only gripe with DotMod products is they all look basically the same. I think DotMod should come up with something completely different in terms of colors, materials and design for their next product.