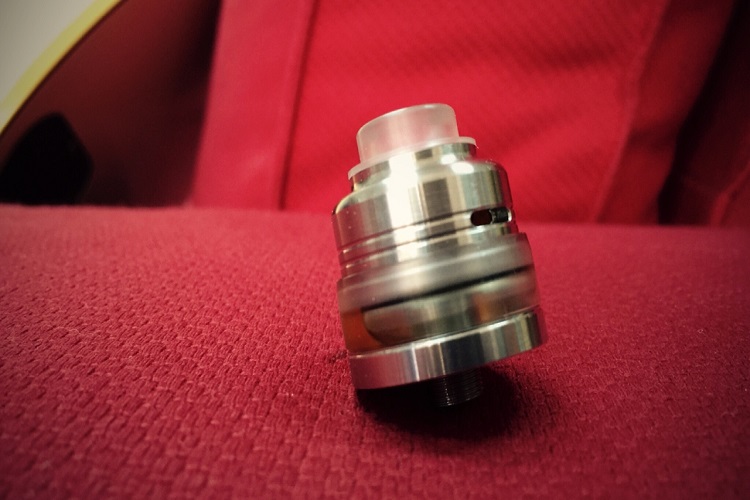 SJMY Split-R Clone – The Improved DNV Split Atty!
In this video I review the SJMY Split-R clone, the successor to the DNV plit Atty clone I reviewed before. The main improvements are to the airflow; its not adjustable by turning the integrated driptip.
Here are the basic specs for the SJMY Split-R clone:
Stainless steel + acrylic construction
Removable wide bore drip tip
1.3ml juice capacity
Dual posts build deck design
Adjustable center screw
510 threading connection
22mm overall diameter
I've used the Split-R clone by SJMY for a few days before doing this review, and there are my thoughts on it. Keep in mind that I have always intended to use it as a squonking RDA.
SJMY Split-R Clone: Pros
Airflow is easy to adjust – Unlike the previous version, you can twist the airflow easily. The airflow dimensions are pretty much the same as the earlier version.
Good build quality – The build quality of the Split-R clone is good, including the o-rings. I've mentioned before that the #1 problem with clones are the o-rings, but these seem to be holding up pretty well.
Great for single coil – The single coil blocks work really well, and you get two of them nin the kit.
Great flavor – I was able to get great flavor from the Split-R clone, using simple round wire and a single coil build. Dual coil builds work great as well, but the tanks does get warm.
Good quonking action – The 1.3ml capacity tank is not an issue if you use this for squonking. The squonk pin works well without any leaks.
SJMY Split-R Clone: Pros
Integrated driptip – I have to mention it as a con for the Split-R clone, although it's a subjective con. I would have preferred if the airflow could be adjusted seperately, and not attached to the driptip or the 510 driptip adapter. The Pindad SS Driptank has great adjustable airflow and is roughly the same size as the Split-R clone.
Gets warm / hot – This is prehaps most noticeable when you use Clapton coils, and a dual-coil build. Keep in mind that the Split-R clone is only 22mm. The actual build area is smaller, due to the airflow ring.
Overall, I enjoyed the Split-R as much as I enjoyed the Bombertech Pindad SS Driptank. It's a great deal for the price. You better get it now before they discontinue the Split-R clone just like they did with the original DNV Split Atty clone.
This video was a part of my "Squonk Week" series. Here are the other squonking-related videos: