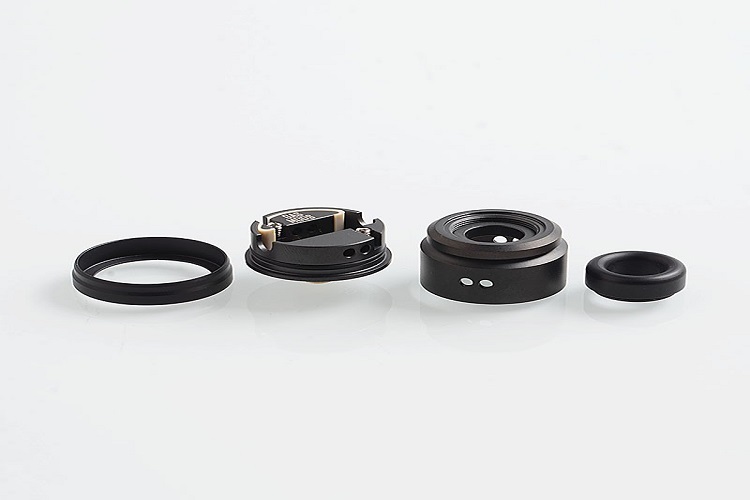 Nova RDA by Gas Mods Full Review
The Nova RDA by Gas Mods is the latest RDA from the same company that gave you the G.R.1 RDA and the Nixon 1.5 RDTA. This is a single-coil squonk-ready RDA that looks like a high-end RDA, but with a really affordable price.
Similar to the GR1, the Nova RDA come in both sand blasted or black decks, and a wide range of colored topcaps. Here are the basics for the Nova RDA by Gas Mods:
Stainless steel 304 sand-blasted deck
Stainless steel 304 cap – 2 parts threaded
Comes with Delrin driptip and beauty ring
PEEK insylator, single-coil post-less style
22mm diameter X 19mm height
The unique thing about the Nova RDA is the 2-part top cap. It doesn't really effect the flavor, but it's sure fun to play with! The upper "beauty cap" fits both a regular 510 driptip and the included threaded wide bore tip. Remove it, and you can fit an 810 driptip (with o-ring).
So they have really thought a lot about that little feature
Gas Mods Nova RDA: Pros
Beautiful & well built – Just like the Nixon and The GR1, it is high quality and feels like a really high-end product. The sand blasting is smooth and even. The screws work just right and hold down the wire well.
Beautiful caps – Lot of colors to choose from, although you need to purchase the rest seperately. Again, feels like a very high-end cap that should cost $12 – $20.
Short profile looks – Some don't like short RDAs, but if you are someone who does, this RDA is going to look great on all your tiny mech squonk mods. Personally, I prefer the way it looks without the top ring.
Decent flavor – I cannot say that I was able to get "the best flavor" from the Gas Mods Nova RDA. However, the flavor is pretty decent. In case you're wondering, my best flavor-chasing squonk RDA is still the Basic 1.1 RDA.
Gas Mods Nova RDA: Cons
Easy to oversquonk – This is disappointing, but the Gas Mods Nova RDA is really easy to oversquonk. I guess there's not much they can do when the height is only 19mm. With another 1mm in there, they could have angled the airflow down just a little, which would have resulted in better airflow and flavor as well.
Overall, I think at $24 the Nova RDA is a great buy for someone just looking ot get into squonking. Gas Mods have not slipped in their quality.
If you already have a few good squonk RDAs however, you might not get anything from the Nova. There are tons of RDAs out there that can deliver better flavor, even clone vape stuff.