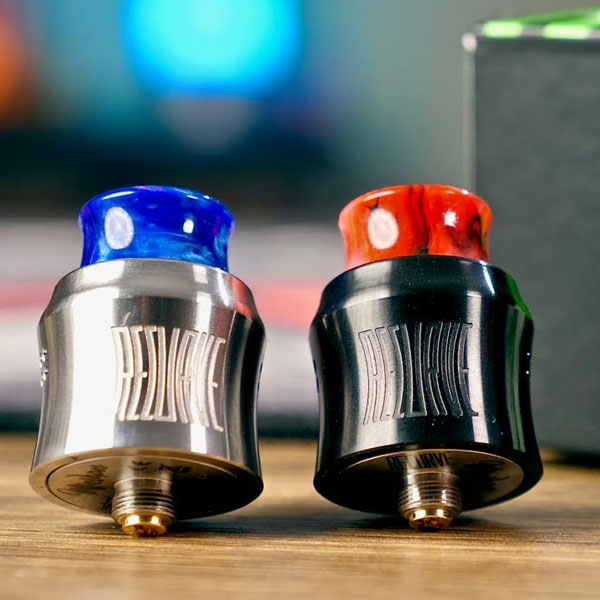 Wotofo Recurve RDA by Mike Vapes – Full Review
When it comes to good single-coil squonking RDAs, I always have better luck in the higher end of vaping. My favorites like the Basic RDA, KRMA, Haku and Venna are all from the higher end and cost upwards of $100.
Most of the single coil squonking RDAs from China have been disappointing in terms of design, flavor or both. That's why I was a bit sceptical of the Wotofo Recurve RDA by Mike Vapes. I've reviewed Mike Vapes stuff before, and they are usually designed for cloud-chasers. I didn't expect this to be any different.
I was wrong. Although it looks very much like a Chinese-designed RDA, and airflow is very unique. This RDA was definitely meant for flavor-chasing, the fact that it is 24mm is actually very misleading. The build deck itself is only about 20mm, but the thick topcap makes it 24mm in total overall diameter.
At about $25, the Recurve comes in many different colors and is made from 304 stainless steel. It has a single-coil postless deck with an "airflow wall" as I like to call it. The wall actually has six small airflow holes on either side. You control the side airflow by twisting the topcap.
The Wotofo Recurve comes pre-installed with the bottom-feeding pin, and you get a standard 510 pin as well. Plus, there's almost no juice well on this RDA, which means it was designed first as a squonking RDA.
So here's what I think about the Recurve…
Wotofo Recurve RDA: Pros
Smooth airflow & great flavor –

The flavor I was able to get from this is on par with a lot of the more expensive RDAs I have tried. The airflow is more open as well, perfect if you want bigger clouds.

Easy to build –

The post-less decks are straightforward and can accommodate larger diameter coils easily. The included Nichrome coils work perfectly and produce clean flavor.

810 & 510 compatible –

You get an adapter for using regular sized 510 driptips, plus you get an additional 810 driptip in the kit.
Wotofo Recurve RDA: Cons
Un-sexy design –

I loved the one I reviewed because it is black and has that cool smoked 810 driptip. But when I take a look at the regular stainless steel version, it feels like just another Chinese product rehashing the same design elements I have seen before.

24mm diameter –

I would not usually list it as a con, but this could be a 22mm RDA. The topcap is thicker than it needs to be, or maybe there's a reason for that. In any case, there should be new PMMA topcaps out soon. These should be simplified and 22mm in diameter.

Tiny juice well –

No problem for squonking, but not meant for dripping.
Overall, I liked the Wotofo Recurve RDA. It didn't blow my mind, and the flavor is not the best I've had.
But for the price, it's a damn good single-coil squonking RDA. I've added it to my list of best squonking RDAs, although I think the upcoming new PMMA / PEI topcaps will take it to the next level in terms of sex appeal.