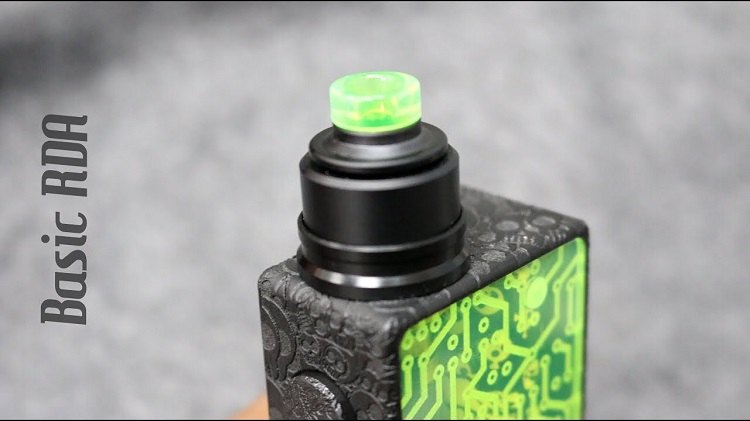 The Basic RDA by 5A's – Best Squonk RDA for 2018?
If you're looking for a great high-end squonk RDA to enjoy in 2018, I believe I may already have found the best. Yes, I really do think so, and you might as well as soon as you get a Basic RDA by 5A's in your vapemail.
In this video I review the Basic V1.1, which is an improved version. The original Basic RDA was extremely limited, and featured a gun metal topcap that the modder has promised to be exclusive for the version 1.
5A's (I have no idea what it stands for) is a group of modders based in the Philippines. You can join their Facebook group here, which is where you can get yourself the Basic RDA along with anything else they have to offer.
The Basic RDA:
22mm single coil RDA

Top airflow control

Sandblasted deck, serialized

Stainless steel topcap with Delrin driptip

Extras include PMMA, Delrin and Black Ultem topcaps

Comes with BF pin and standard 510 pin
I used the Basic RDA for a five days before the review, but in that time I had an unfortunate auto-fire incident on my Bliss mod which partially damaged the clear topcap.
Basic RDA – Pros
Great dense flavor –

I would say the flavor is like a cross between the Solo RDA and the Hussar RDTA, both of which are great flavor-chasing RDAs themselves. It's hard to say it's the best flavor, but it's definitely in my top 10.

Amazing machining & build quality –

It held up really well under my macro lens as you can see in the video, which usually reveals the minor scratches and imperfections in 99% of the stuff I usually review. I also love the sandblasted deck, which reminds me of the

Haku RDA

.

Great value for money –

The Basic RDA costs $80 excluding Paypal fees and shipping. At the price it is cheaper than most of the high-end RDAs I own, and has way better build quality.

Easy to build –

Simple, straightforward build deck that is flexible enough for large coils as well as round wire. Wires trap easily.
Basic RDA – Cons
Generic-looking design –

The version 1 looked a bit more unique than the version 1.1, which looks very generic. If this is your first squonk RDA, then you might not notice it. I however own many RDAs that look somewhat like the Basic RDA v1.1.

Hex screws –

I left this one out in the review, but hex screws are a subjective con. It comes down to preferences, but I would prefer flat head screws.
Basic RDA – Conclusion
At $80 is pretty good buy considering the excellent build quality. Overall it's a great squonking RDA with smooth airflow and great flavor. You can also get an assortment of topcaps, driptips and beauty rings from their group. The v1 has been discontinued but you can get the clone version here.
The Basic RDA might just be the best single-coil squonking RDA I buy this year. We'll see!