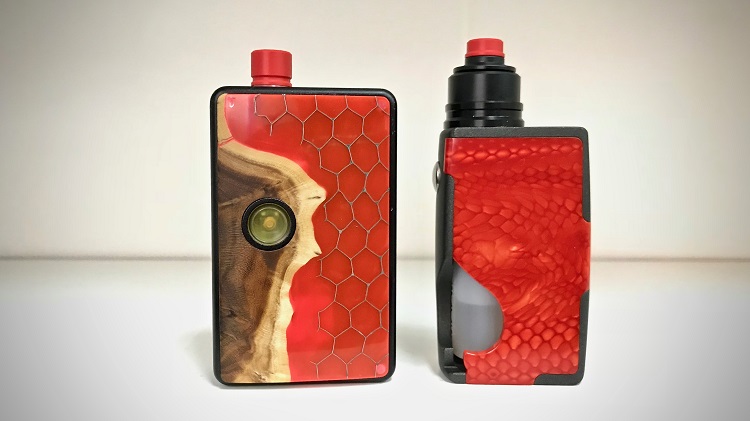 Squonking is in full stride now, with even the most obscure Chinese companies getting in on the action. You've got tons of options to choose from when getting a good squonking mod or decent squonking RDA. From high-end devices costing $450 to the affordable and awesome Pulse 80 by Tony B, it's easy to get overwhelmed.
All the while, BilletBox fanfare appears to be in decline. Once the most sought-after type of device, today the BilletBox is easy to purchase and always in stock on most websites. It's still a good device and almost everyone I know still owns one, but the hype train left a long time ago.
But today, all I really want to talk about is the similarities between squonking and the BilletBox. For the purpose of this argument, I consider the BilletBox as a platform more than a product. It's a box that can take in a whole range of "bridges" like the Steamtuners Insider, Exocet and more.
Both squonking and BilletBoxes aim to solve some of these issues:
Having a large juice capacity for an all-day vape

Having a small, compact device that is portable

Convenience without constant dripping and refilling
Otherwise, they are pretty different. BilletBoxes are built like a proprietary system, in a lot of aspects. You can also think of it as a "mod" in that sense, since the only part of it that is open is the type of bridge you use. Accessories are limited to doors / panels, as nothing else on the BB is really customizable.
Squonking is way more open, with interchangeability between the mods and the atomizers. Squonking has a lot of appeal because of the wide range of accessories you can get to "dress up" your combination – from top caps to beauty rings, doors and panels – you can spend quite a lot on just the accessories for a single mod.
A while back I asked this question on my FB:
"If you could choose between squonking and the BilletBox, which one would you go for?"
The answer seems to be that most people prefer the diversity of squonking. Keep in mind that the BilletBox isn't cheap. It's a pretty decent chunk to pay for limited options.
However, when it came to portability and travelling, the BB seems to be the winner.
Squoning, in reality, is pretty messy. Oversquonking and leaky bottles are always an issue. Most squonk bottles hold up to 8ml which for some people only lasts half or 3/4 of a day.
Plus, the safety aspect when using mechanical squonk mods. I almost never bring a mech squonk mod when I travel. I just don't want to take chances when my attention is porbably going to be diverted away by my kids.
The BB can be messy as well, but to a lesser extent. One thing I've always wondered about the BB is why they designed it in such a way that condensation can occur right above the DNA60 screen. There are plugs for this of course, but you still get a wetness inside the BB from all that condensation.
When you've wicked incorrectly however, the BB is a way more messier experience. You have to drain out all your liquid just to change cotton or put in a new build. So I tend to go with "safe" round wire builds in the BB.
At the end of the day, I agree with most of the answers I got.
I prefer squonking for pure vaping pleasure. I prefer the BB for travelling and convenience. Both are great in their own way.
AIO systems like the BilletBox never really gained as much traction as squonking and probably never will. However, I do hope that the BilletBox remains and improves on its design for greater convenience in the future.
I would love to see a future version with a USB port and more a more sensible airflow intake.