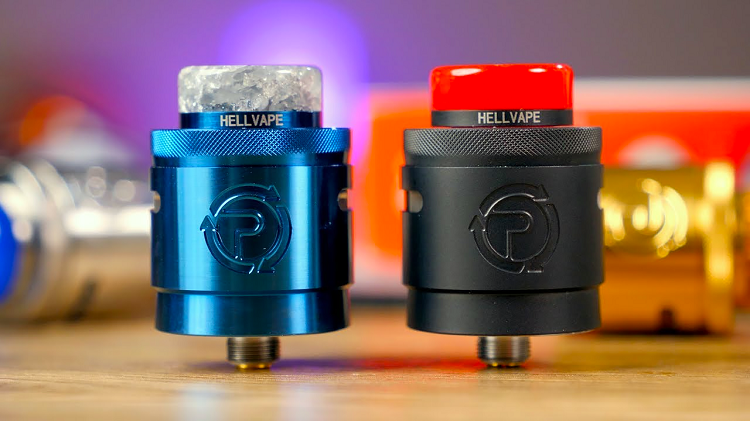 Review of Hellvape Aequitas RDA by Ambition Vaperz
I've reviewed the Hellvape Dead Rabbit RDA before, and I wasn't too excited. Nothing wrong with the RDA, it's just another cloud-chasing thing that I'm not into. I thought the same for the Hellvape Aequitas RDA, as they look pretty similar in many ways.
However, there's more to the Aequitas (I sometimes say Aqueitas) than meets the eye. Designed by Ambitionz Vapers, a popular Youtube reviewer, it's based off the best parts of the Drop and Dead Rabbit. Some would say it stole the best parts of them, but from what I understand Derek (Ambitionz Vapers) has the green light from Hellvape to do so.
The Hellvape Aequitas RDA is dual coil 24mm postless (or short posts?) RDA with "reversible airflow" This essentially means that you can flip with barrel of the RDA to have the airflow pointed upwards or downwards. Of course, you will need to adjust your coils accordingly.
Comes with an 810 driptips but compatible with 510 tips via an adapter provided. Building and wicking is very similar to the Drop / Dead Rabbit, although the airflow is channel inwards a little bit for more intense flavor.
Retailing at $25, the Aequitas RDA comes with both BF and regular 510 pins, and available in many different colors.
So here's my review…
Hellvape Aequitas RDA: Pros
Good build quality – Nothing to complain about the build quality, just like the other Hellvape products I have reviewed before. Arrived clean and oil-free, but I put it in the ultrasonic cleaner just in case.
Good airflow & flavor – This is going to be subjective. It really depends how you position the coils and the airflow. I preferred to point the airflow downwards, and pull my coils closer for more intense flavor. This gives me the best results.
Clean design – Not too loud with the logo, and the driptip is my favorite color! I cannot speak about other variations, but I do like the subdued design elements.
Easy to build – Again, this is no surprise to people who loved the Drop and Dead Rabbit.
Hellvape Aequitas RDA: Cons
Pretty tall (subjective) – For using on a squonk mod, it looks too large on most of my tiny squonk mod setups. but with larger mods (dual battery) it looks right in place.
No single-coil reducer (subjective) – I know I have a lot of single coil RDAs, so there's no big deal with a dual coil RDA that doesn't have a single coil reducer. But bear with me, I;m running out of cons to suggest.
Overall, I definitely like this more than the Dead Rabbit. However, I'm still not a fan of dual coil RDAs with the exception of my Hobo Drifter.
I'm still going to list this on my best squonk RDAs list though, as there aren't that many good 24mm squonk RDAs around still.