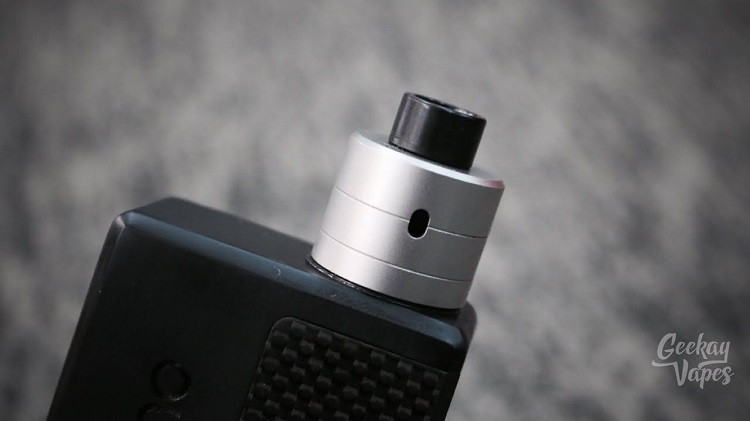 Haku Phenom Review & Build Example
When I got the Haku Phenom for review, I didn't expect it to get so popular. Today, everyone wants a Haku Phenom, and the twin-from-a-different-mother, the Haku Cruiser.
Never got the Haku Cruiser, so my review is going to be only about the Haku Phenom. I show you how it works, how to put a build on it, and how it vapes.
Haku Phenom at a glance:
RRP $85, increased to RRP $100 recently since this review
22mm single-coil RDA with reduced deck
Sandblasted topcap & Delrin 510 driptip
Comes with spare o-rings and tools
Designed in Australia, manufactured in Korea
Apparently, it's impossible to get your hands on a Haku. I've seen them ramp up production to about 300 units per sale right now, but somehow the demand seems to be exceeding the supply of these little atomizers.
I've also seen a Haku Phenom clone, which I list on my best squonking RDAs collection, but have not personally tried. I do recommend you get the authentic if possible. It may take a while, but eventually you will get one.
Not many people seem willing to sell their Haku, so that's a good sign that they like it.
Haku Phenom: Pros
Great balance of flavor and vapor – You can get great flavor from the Haku Phenom, and with the right build you can also get amazing vapor. It seems to balance these two things really well.
I love the design – At first the Haku seemed a bit weird to me, but the design grew on me. I love how minimalistic it is. No gimmicks.
Easy to build – The single-coil build deck is easy to work with, and can hold fairly large coils. I have seen some people do a dual coil build, but it's safe to say the Haku was meant for flavor chasing with a single coil.
Great build quality – The machining and tolerances are just perfect. The driptip fits a little tighter than I would like, but my other 510 driptips fit just fine.
Haku Phenom: Cons
Topcap gets hot – I noticed this from the very first build. Again, this is not specific to the Haku Phenom. The Soul S, Gambit, Vaponaute Le Mirage and other "slammed" RDAs with stainless steel caps have the same issue.
Spitback – This isn't an issue I have experienced, but some people have reported having spitback issues since my video review was published. To be honest, you can get spitback issues with most single-coils slammed RDAs. It depends on your coil and your wicking.
So there you go, my honest review of the Haku Phenom. The only thing I wished for (at the time of review) was the availability of ultem / delrin / PMMs topcaps for the Haku.
Today, you can find some Vikset ones, as well as bell caps by Chris Muns. There are hard to get, but at least they are out there, somewhere.
To get the Haku Phenom or Cruiser, you need to join the Haku Engineering group using the link below. Sometimes the group is in "secret" mode so it appears like it doesn't exist. Please watch my video on how to buy high-end mods and RDAs if you do not understand how this works.