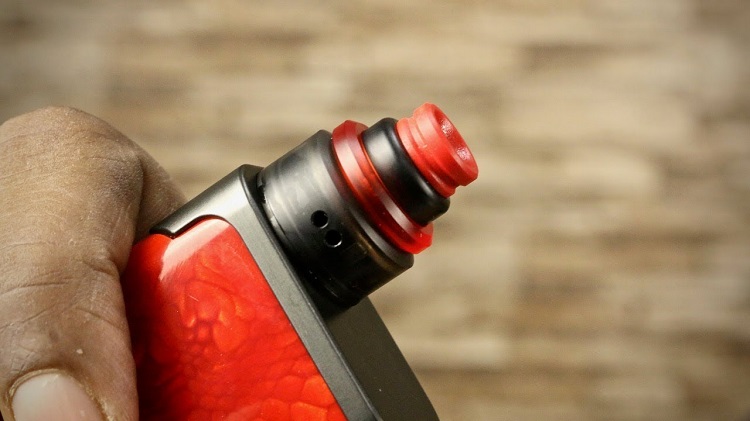 Gas Mods GR1 Squonk RDA – Full Review
The Gas Mods GR1 is the latest hit from the company since the Nixon V1.5 RDTA, and I think this will really bring the Gas Mods brand to the next level. Unlike the RDTA form of the Nixon, the GR1 is a simple RDA with a unique twist – replaceable airflow options.
Think Skyline RTA with the airdiscs, but in a flavor-chasing RDA setup. Plus, think time they went all out with the accessories – Delrin caps in 8 different colors, and driptips sets (3 each) is just as many colors.
** Update: They have also recently released 24mm caps and 810 driptips, now also in clear and Ultem (PEI).
Here are the basic specs for the Gas Mods GR1:
Stainless steel construction with sand-blasted deck
Comes with POM drip tip and topcap
Dual post build deck, for a single-coil build
Two different kinds of airflow inserts, 45 degree angle
Gold-plated 510 pin and BF pin (installed)
22mm overall diameter, slammed profile
Gas Mods GR1 RDA: Pros
Great price – The price might be lower as you are reading this, but even at the introductory $39 it's a great deal. Plus, all the accessories are also reasonably priced. You may say that's a bit pricey for a Chinese-made RDA, but there are no Chine-made RDA I can compare it to.
Replaceable airflow – Yes this is amazing. I've seen it so many times of tanks but never on an RDA. The fact tat you can completely replace the airflow makes it very flexible. If Gas Mods wanted to, they can easily sell a MTL airflow for the GR1 and it will work really well. Perhaps they will, soon..
Great build quality – I love the sand-blasted deck, and all the tolerances are just right. All the caps fit snug with the included o-rings.
Looks and feels high-ends – Being "high-end" is really a matter of taste. It's a different way of thinking, simplifying things to minimalistic design that works. It's the choice of materials, and knowing current trends. Nothing out of China looks even remotely like the Gas Mods GR1. It's not surprising as Gas Mods have been working with others to create high-end RDAs for a long time.
Amazing, sharp flavor – If you're a flavor-chasing squonker you need to get your hands on the Gas Mods GR1 RDA. The "slammed" profile and angled airflow allows air to reach your coils in a focused stream, pushing flavor up. Clouds aren't that bad too, although not the main reason this little RDA exists.
Tons of accessories – They seem to be still releasing new caps as I am writing this, but you cannot deny that there are so many options. Gas Mods has a finger on the squonking world, and right now the trend is definitely bright-colored caps and driptips (anything other than ultem / black / white).
Gas Mods GR1 RDA: Cons
Some spitback – The first build I put on the Gas Mods GR1 was spitting hot juice into my mouth. This was because it was a 3MM ID coil, and pretty large. Then I toned it down to a 2.5MM ID fused clapton coil (28gx3+38g N80) and no more spitback. You cannot get too aggressive with this tiny 22mm RDA.
Unusually tight BF pin – The bottom-feeding hole is smaller than most other squonk RDAs, so you need to get used to it. The narrow hole creates higher pressure. You will be squonking more juice in without actually feeling like anything is happening, resulting in a flooded deck. It takes some getting used to.
Not for drippers – It's going to be a pain to drip on this, simply because of the airflow. You can do it if you're careful, but expect juice to get into the airflow with every drip. This works great as a squonker, not as a dripper.
No airflow replacement tool – I have to list this as a subjective con, but it would be great if there was a tool included that allowed me to just replace the airflow without having to remove the negative post.
Do I love the Gas Mods GR1?
Absolutely, in fact it's already taken the top spot in my list of best squonk / bottom-feeding RDAs. It's just too good to pass for a squonker. I'm crazy about accessories – have you seen my older best squonk RDA collection video or my best squonk mod collection? It's all about the caps and the looks and the "matchy-matchy".
It's lame, or not, depending on how deep you have drifted into squonking
Anyways, I would give the Gas Mods GR1 two thumbs up, one for being a great flavor-chasing RDA and the other for being a high-end RDA at regular prices.