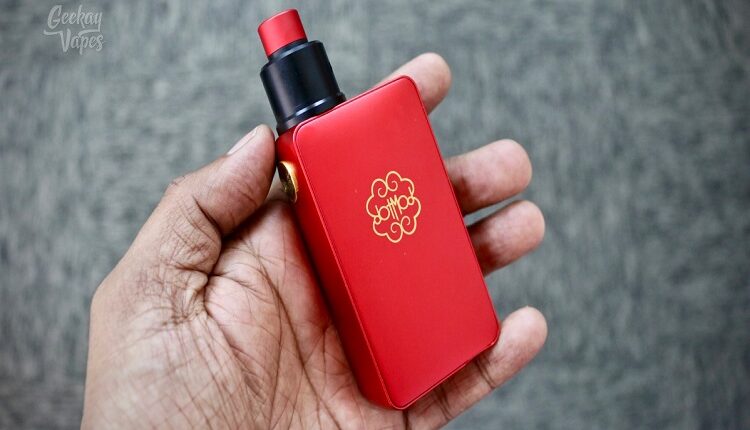 Dotmod Dotsquonk Review – Fail or Fantastic?
I wasn't sure that I would get used to the Dotmod Dotsquonk especially the unusual door. However, the price was good at just $99 so I could not resist. Overall, I have no regrets getting this sexy beast. The pros outweigh the cons, for me at least.
The Dotmod look has gotten stale for most people, and to some extent for me. That's the reason I skipped on the DotRDA 24mm. My opinion of Dotmod is that they make products that emphasize form over function, and the Petri Lite mech mod I've been trying to sell was sort of disappointing. Let's not forget the DotBox V2 300W.
So anyway here's my review..
Dotmod Dotsquonk Review: Pros
Here's what I liked about the Dotmod Dotsquonk..
Good looking & luxurious –

Hands down the best-looking

squonk mod

I own. The cerakoted finish is typical of DotMod, and unless you're bored by their color scheme, there's no reason to hate it. That extra bit of luxury 24k gold-plated buttons and custom squonk bottle certainly make it look very premium.

The price is fantastic

– At $99 this is the best bang-for-buck squonk mod. Of course, this may be a bit skewed since I'm a sucker for things that look good. I cannot deny that the

RSQ Squonk Mod

is also great value for money.

Supports 20700 and 18650 batteries –

There is still a lack of good 20700

squonk mods

. The fact that the Dotmod Dotsquonk supports 18650 batteries with a well-made adapter is great news for me.

Huge custom squonk bottle –

Many mods do not maximize internal space by using off-the-shelf

squonk bottles

. Dotmod decided to design their own 11ml bottle, and it paid off. The huge capacity is a pro, but also the fact that this bottle is just as good as my favorite Cappy V4 bottles.

Replaceable doors –

This is very important for squonkers, as a lot of people love to accessorize. Dotmod is selling the doors separately, but I've also seen some pretty gorgeous stabwood doors.
Dotmod Dotsquonk Review: Cons
No locking on the switch –

What a missed opportunity by Dotmod. I understand some people don't care if the switch can be locked, but I do. Having a locking mechanism means I would actually bring this mod out with me, back home etc. Without any kind of lock, it would mostly be a trophy wife destined for life on my desktop.

Slight voltage drop –

I'm not sure if I realized this when I did the video, but I've observed some voltage drop. However, it's very minimal and this mod will never hit as hard as pure mechanical, all-silver-contact mods.

Overhang with 24mm RDAs –

Again, not everyone is OCD about a little overhang, but I am. I find it hard to understand this, since the DotRDA is a 24mm RDA. WHy wouldn't Dotmod make sure that the

DotSquonk

can comfortable fit their own RDA?
Overall, I love the Dotmod Dotsquonk bottom-feeding mod. It looks good, performs good, and future-proofed in terms of batteries. I cannot help but feel the lack of a locking mechanism is intentional, but why?
My biggest pain is the lack of locking. I would love the idea of using this mod, but fear bringing it out with me. I guess that means the mod will be scratch free for a long time.
In my opinion the Dotmod Dotsquonk is worth getting, for the price, and the overall value for money. They have mastered the art of making stuff look good, but in this case at least, it also works pretty good.