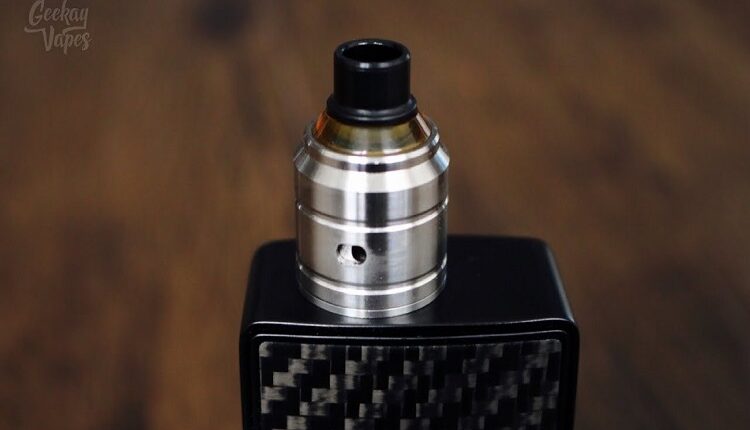 Comet RDA by Vapemonster Korea
Vapemonster from Korea is pretty well-known in some high-end vaping circles, although you might have never heard of them. I remember seeing several of their squonk mods on sale in various FB groups, and they looked pretty well-built.
I came across this by chance in a local vape store, and decided to get one. The Comet RDA is a 22mm single-coil RDA designed for flavor chasing with an open draw. The airflow reminds me of the Flave RDA, although not exactly alike. Perhaps it's closer to the B2K RSA?
There's also a black version, which looks fantastic. Ok, let's get on with the review.
Comet RDA Review: Pros
Good build quality –

Overall the build quality is great, with some issues on the threaded Ultem top piece. You may have a hard time getting the ultem part out at first, but do it slowly and it should come out. The o-rings and other minor parts work well too.

Wide open airflow –

If you want a single coil RDA that has a wide open airflow, this is it. It can accomodate larger coils for more vapor production.

Good flavor –

It's hard to rank an RDA in terms of flavor, but I would say the Comet RDA comes into the top 30. Definitely not the top 10 for me personally.
Comet RDA Review: Cons
Flimsy clamps –

The clamps do't work very well in my opinion. It look large but the actual area you can clamp with is pretty small, and your coils can slip out with a little tugging. You can however try pre-cutting your leads and clamping on the inside part of the clamp. The screws that hold down the clamps are a bit too small to have enough force.

Not flexible –

You can basically put your coil in one position only. Or maybe two positions in you consider using the inside part of the clamp, after the screw. But that's about it.
Overall, the Comet RDA by Vapemonster Korea is a well built RDA, the only letdown are the clamps. In today's squonking world, it's hard to impress me.
I prefer the Haku, Flave & Flave 22, Basic, B2K and more over the Comet RDA. The black version does look better, and the ultem / PMMA topcaps can help a little with the overall looks and flavor, but for me it's not quite going to make it to The Stand.