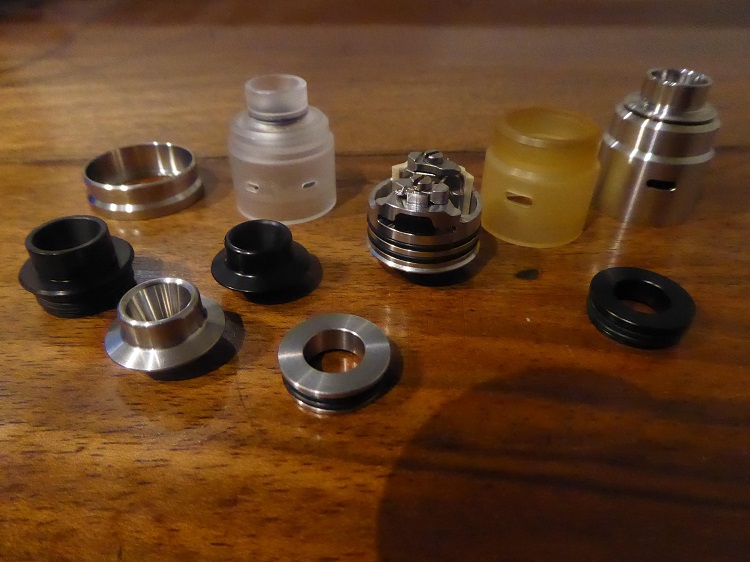 The Flave 22 Review – Titanium & Stainless Steel Versions
Ok so I am going to review the Flave 22 Titanium limited edition in the video, but I will also tell you what I know about the regular stainless steel version. If you haven't watched my Flave 24mm review video, I recommend you take a look at that first.
The Flave 22mm didn't take me by surprise, I would have expected Alliancetech to release this right after the Flave 24. I just didn't expect them to take so long
Many (and I mean MANY) people love the original Flave RDA 24mm. It's still one of the only 24mm single-coil RDA that I own with so much airflow.
Here are the specs for the Flave 22 RDA, with the differences between the titanium eidition and the SS version stated:
Retail price is €120 (titanium) and €80 (stainless steel)
22mm x 28mm dimension
Airflow is 0.5mm shorter than the 24mm version
710 sized driptip (same as Armor RDA)
Titanium and Delrin driptip (for Ti version) or Ultem driptip (SS version)
Titanium / stainless steel topcap
Gold-plated 510 and BF pins
And yes, by the time I got to doing this written review you can get Delrin topcaps for the Flave 22 for about €20, and a 510 adapter for about €13.
Flave 22 RDA Review: Pros
More restricted airflow – The 24mm had wide-open airflow, and a lot of people loved that. The Flave 22's airflow is more restricted, and you should adjust your builds accordingly unless you like a hot vape.
Excellent build quality – I love the look of the titanium topcap, but overall the build quality is excellent too just like it was on the Flave 24mm
Smooth airflow & great flavor – Yes this is subjective, but get a good build in here and you will love the Flave 22. Flavor is dense and intense with the builds I have tried in the Flave 22.
Two driptips included – The titanium driptip in mine just looks gorgeous with the rest of the Flave 22. I have seen pictures of heat-treated titanium and I wondered if I will ever have the guts to try it on mine.
Flave 22 RDA Review: Cons
No 510 driptip adapter included – They should have included it. They should have. Sure they sell one separately now and I did get one, but I think they should have included it as part of the standard package.
I loved the Flave 24 and I would have to say the same for the Flave 22. Of course the titanium version costs a bomb but it's a collector's item. You can get the stainless steel version pretty easily from many online stores.
I recently purchased Delrin topcaps and 510 adapters for both the Flave 24 and Flave 22. I also ordered some Vikset caps for the Flave 24 so these two drippers are going to be in my collection for a long time!