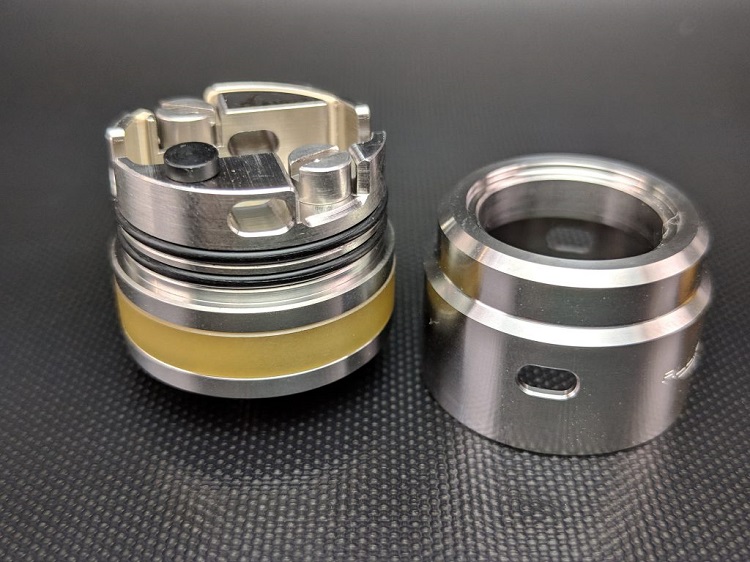 The Flave RDA by Alliancetech Vapor
The Flave RDA by AllianceTech Vapor is the first 24mm single-coil RDA that I have used. At a time when almost all squonking RDAs were just 22mm, this stood out to me.
I did think about it many times, before deciding to get it. I got mine from PhileasCloud, but please do try to get it locally before buying from that site. The main reason I say this is because their shipping rates are very pricey.
Here are the specs of the Flave RDA (24mm):
Retails for around €90
24mm x 28mm (with driptip)
304 stainless steel construction
Single coil reduced build deck
Gold plated 510 & BF pin included
Proprietary wide bore Ultem driptip
PEEK insulator
Before you ask, yes you can get the Flave RDA clone and it's pretty good.
The Flave RDA Review: Pros
Excellent build quality – Nothing to complain about the machining. All the tolerances are just perfect. The topcap clicks in really nicely, and the wide bore driptips fits snug.
More airflow – Think of it as the Hadaly with slightly more airflow. This is something a LOT of people are looking for in a single-coil RDA. You should not expect to get a MTL draw or a very restricted lung draw.
Fantastic flavor – I've been able to get great flavor out of it with all the build I have tried, both 3mm and 2.5mm ID coils.
Effective build deck – I would not say it's the easiest build deck I have used, but it works well enough to securely hold down your larger wires and coils. You might need to remove one screw when using larger coils.
The Flave RDA Review: Cons
No 510 adapter – As I said in the video, I hate the fact that it does not come with a 510 driptip adapter. I can understand that Alliancetech would use a proprietary size driptip to bring out the best of the RDA, but we need choices!
The Flave RDA by Alliancetech is one of my all-time favorites. In fact I've featured it also in my high-end squonk RDA compilation video, and I don't see myself letting it go anytime soon.
Also, now you can get Delrin topcaps for the Flave by Alliancetech themselves, and some Vikset caps that use a 510 driptip. You should be able to find the Flave RDA easily in a lot of B&M stores, which is great.
Plus, you can now also get the Flave 22 in both limited titanium and standard stainless steel variations. However, I feel that the Flave is unique by itself, and you really need to try the 24mm version instead of the 22mm.