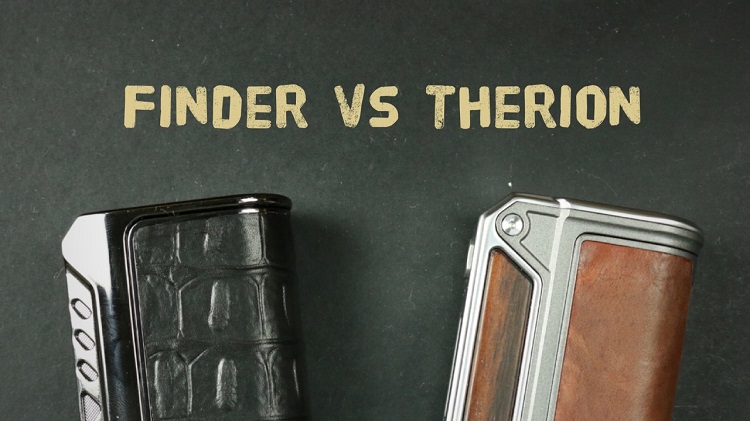 Therion Vs Finder: Lost Vape Vs Thinkvape
So after reviewing both the Think Vape Finder and Lost Vape Therion, I promised that I will do a separate video showing you the similarities and differences between the two popular mods.
So here it is, my Therion Vs Finder video in its full glory, which is also in a way a Lost Vape Vs Think Vape comparison.
At first glance they look almost identical except for the color and finish, but when you pay attention to the details you can see more differences.
Therion Vs Finder
Although I compare a Lost Vape Therion 75 to a Think Vape Finder 167, as far as I know there are no changes except the board on all the DNA variations.
Here are some of the most important differences, other thank price:
Finish & materials –

Lost Vape has the edge on luxury here, since all its Therion and Triade models have real leather / wood on them. The Finder mods use either carbon fiber or PU leather, which although looks like real leather doesn't smell or feel anything like it.

Battery tray and door –

Its a little bit easier to get your batteries in and out of a Think Vape Finder, as you can see in the video. For the Therion, the side wood panels reduce the space, making the battery compartment more difficult to work with

The 510 port position –

The Therion has its 510 all the way at one edge, while the Finder has it off-center. Weird as that may sound, I think I actually prefer the off-center 510 port.
A lot of the components like the 510 pin look & feel identical in both mods.
But really, the debate is about two companies that have similar-sounding names and release these mods like they are a converted effort, with one company releasing a new DNA device within days or weeks of the other.
Lost Vape Vs Think Vape
I honestly feel that these two companies are related. It's not uncommon for a Chinese company to create a "sister" company and share designs, product development plans, staff and factories.
Unlike American companies, the Chinese brands are often family-run.
Instead of letting an outsider into a family business, they create a different company and welcome the investment.
At the end of the day, they make more products and have a wider net to rake in all that money from you and me. So they are not complaining.
A similar situation: Companies like Wismec, Eleaf and Joyetech are all related. You'll see many Joyetech innovations and parts used in Wismec or Eleaf mods.
Anyway, I hope you enjoyed this comparison video.
If you're looking for great DNA75, DNA200 or DNA250 mods, check out my ultimate compilation of the best Evolve DNA mods & squonkers.
I hope you enjoyed this Therion Vs Finder comparison video, remember to subscribe to my YouTube channel.