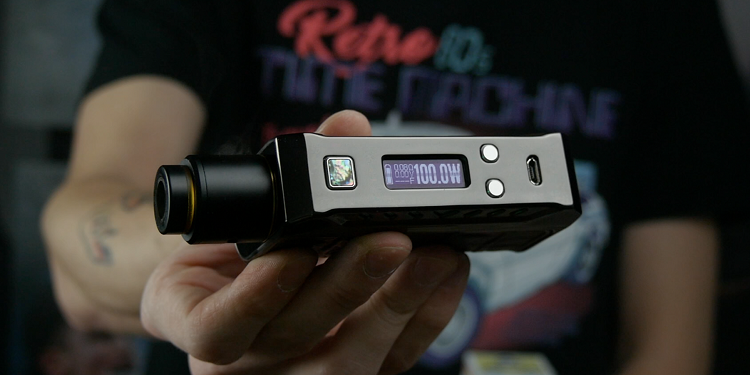 Think Vape Finder 167 Review – Better Than Expected!
While shopping for my Lost Vape Therion, I noticed the Think Vape Finder 75 and wondered why a company would make two devices that competes with each other. Silly me, I soon realised that they were from two different companies, although the similarities are certainly striking.
I had to choose the Therion 75 over the Finder 75 that time, but when I saw the Think Vape Finder 167 I just had to get it. To my surprise, the quality and performance of the Think Vape Finder is similar to the Lost Vape Therion.
It comes with good packaging, and includes a user manual and USB cable for charging and firmware upgrades. Here are the specs for the Think Vape Finder 167:
Comes with Evolv DNA 250 board

Variable Wattage: 1 – 167W

Temperature Control range: 200 – 600 Deg.F

Temperature Control mode: TC – Ni / Ti / 316SS

Using 2pcs 18650 batteries (not included)

Magnetic cover, abalone button (black version)

Body Material: zinc alloy and genuine leather and leather

510 thread
The materials are different between the white and black versions, and when I did the review I noticed Think Vape also launched a blue version. The white version has carbon fiber instead of leather.
Think Vape Finder 167: Pros
Here are some pros for the Think Vape Finder 167:
Beautiful design and quality –

The mods itself is stunning, and the build quality and design are top-notch.

Comfortable to hold and use –

The overall size is just perfect for your hands no matter how you vape, and pretty portable for a dual 18650 battery device.

Logical 510 port position –

At first, the position for the 510 seemed weird to me, but I soon got the hand of it, and I think it's actually a more logical option. Your 24mm or 25mm atomizers will set flush and will not scratch the mod easily.

Uses the DNA250 board –

The most powerful chipset right now, with USB charging, firmware upgrades via Escribe and complete customisation options

Replaceable 18650 batteries –

I prefer mods that use 18650 batteries over ones that use a built-in Li-Po battery.

Good price –

You'll be able to pick up a Think Vape Finder 167 for a little less than the Lost Vape Therion 166, and the price is good for a DNA250 mod.
Overall, this mod has a ton of good things going for it. Now, lets get to the cons..
Think Vape Finder 167: Cons
Here are some pros for the Think Vape Finder 167:
Heavy on Stainless Steel for TC mode

– For whatever reason, the DNA board has way too many Stainless Steel presets like "Insane" or "Crazy". The only difference between these presets is the amount of watts used. I think they should have configured the board for Ni200, Titanium and other wires as well.
Yes, I could not find any other flaw for the Lost Vape Finder 167. The Lost Vape mods are always overshadowed by the Lost Vape ones that offer a little more luxury, but they are by no means not as good.
The Think Vape Finder 167 has made it to my list of the best Evolve DNA box mods, and I think it deserves to be there. Overall, a powerful and beautiful mod that I enjoy using daily.