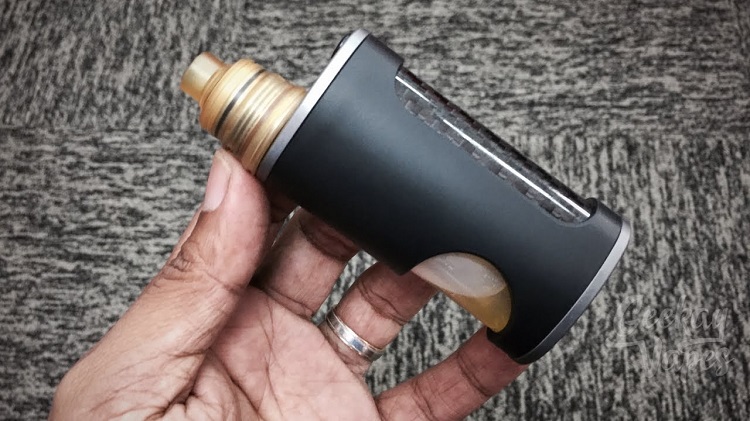 SVA Kimech Clone Mod by YTFK – Best Clone Squonker Yet!
The SVA Kimech clone by YFTK is their latest and greatest entry into the clone squonker arena. After the success of their SVA Penguin clone and SVA Punto Zero clone, they already had the attention of the vape community by the time the Kimech version was released.
The SVA Kimech clone however (at least the one I got) is way better in terms of production quality. No more messy internals and glue marks. In this "first look" video I show you everything you need to know about the Kimech clone, and how it works.
Since the video, I have nothing much to update. My Kimech clone works just fine and hits just as hard as the day I got it. There have been reports of issues (misfiring, voltage drop etc) with the Mosfet switch for some, so please read the latest reviews here before buying.
Specs for the SVA Kimech clone by YFTK:
SVA Kimech Clone Pros
Good build quality –

Not perfect, especially the loose Mosfet button, but overall much better than their previous clone squonk mods. I was genuinely impressed by this one, and it feels like an expensive, high-quality mod. Engravings are deep and sharp, bottle fits in perfectly and the Mosfet works like a charm.

Small & compact –

It's a bit taller than my other mechanical & 3D-printed squonkers, but still very small and light. I love it, and I think people who complain about tiny mods would not mid this one since the button is at the top and very easy to press.

24mm squonk RDAs fit –

This is a very nice pro, you can fit a 24mm squonk RDA without any overhang. The manual 510 adjustment pin will allow most RDAs to sit flush and look great on top.

Very hard-hitting –

I was surprised that the SVA Kimech clone hits really hard, harder than some of my authentic non-Mosfet mechanical squonk mods. Again, some buyers have reported voltage drop, but I didn't feel any with mine.
SVA Kimech Clone Cons
Bottle insertion is a pain –

It takes some getting used to, since you have to get the tube into the hole and press further to grab onto the squonk pin. This is how the authentic design is, so it's not a con of the clone per se.

Rigid squonk bottle –

People have asked me to list this as a con, but I really think the bottle is just nice for this type of mod. You can trying replacing it with

other squonk bottles

. However, you'll have a hard time if the bottle is too soft, and juice will probably spill all over the mod as you try to insert it.
Overall, for the price, this SVA Kimech clone really took me by surprise. The build quality is way better than you would expect, and the performance is fantastic. You may hate the design, but otherwise this clone has a lot of things right.
It's a way better deal than the SVA Punto Zero clone, although some people do prefer the traditional squonk box design. Again, please read the latest reviews to see if there are any issues with the latest batch of the SVA Kimech clone by YFTK before buying.