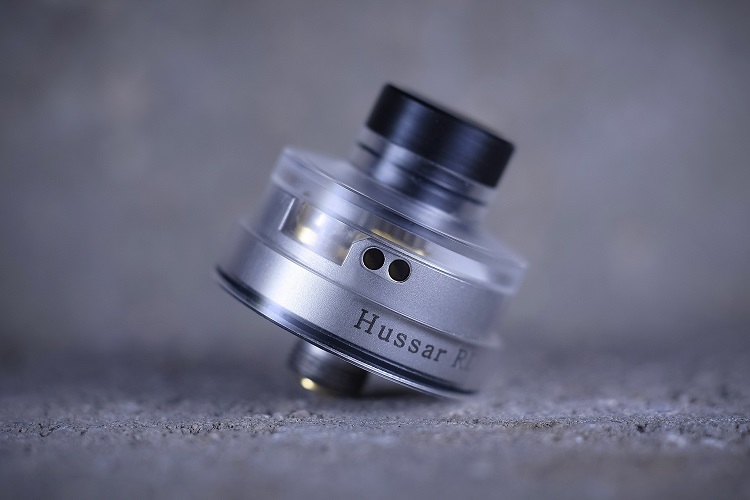 If you're looking for a good Hussar RDTA Clone, this SXK version may fit the bill. Small and short, this is a flavor chasing RDTA capable of squonking.
I've always warned that you never know what you get with clones, and this review proves it. Although the SXK Hussar RDTA clone is supposed to come with a bottom-feeding pin, mine did not.
So although I wanted to show you how it squonks, I was not able to. According to the feedback I received, the newer batches do come with a squonk pin. However, always read the latest reviews to see what may have changed.
The authentic Hussar RDTA costs about €120, which comes out to about $135. There was apparently only one batch produced at the time of this video. This SXK clone costs about $14.
Here are the details:
Stainless steel body with Delrin 510 driptip
Heat dissipation design on the top, just like the "torpedo" topcap for the Hussar RTA.
Single coil deck with room for larger flat wire
Injection filling hole, with a 2ml integrated tank
Side adjustable airflow controls
Non-adjustable 510 pin that is hybrid-safe
22mm overall diameter
Hussar RDTA Clone: Pros
Here are some of the things I loved about the SXK Hussar RDTA Clone:
Small & compact – It's probably one of the shortest RDTA I have used. The integrated stainless steel tank makes it look like an RDA. 2ml of juice is not much, but it's definitely more than what you can get by constantly dripping.
Smooth airflow – The side airflow is buttery smooth on the Hussar RDTA clone. Obviously I am no engineer, but I'm amazed by how the simple AFC can achieve this. It's a very quiet RDA indeed, and perfect for a restricted lung vape.
Wonderful flavor – Definitely one of my top RDAs for flavor-chasing. The smooth airflow and low profile works together perfectly and makes the flavor pop!
Bottom-feeding pin – The small 2ml tank can be forgiven when you consider that it was meant for squonking. Although mine did not come with a squonking pin, later batches of the Hussar RDTA clone did. It earned a spot in my best squonking RDAs list easily.
Hussar RDTA Clone: Cons
Here are some cons for the Hussar RDTA clone:
Shallow juice wells – You cannot drip on this. It was not meant for dripping.
Topcap gets warm / hot – I have seen many beautiful third-party caps for the authentic Hussar RDTA. There's a reason they are so popular; the topcap can get warm or even hot when you chain vape. The heat dissipation design does help to some extent, and it will also depend on the type of wire you have in your coil.
There's really not too many cons on the Hussar RDTA clone for a flavor chasing junkie like me. It's cheap, it works, and it give you a wonderful vape.
In fact I was so impressed by the clone, that I went out and hunted for an authentic Hussar RDTA. Since the HussarVapes Facebook group does not currently sell them, I had to purchase from a flipper. However, the price was reasonable and I am waiting for it to arrive as I'm writing this review.