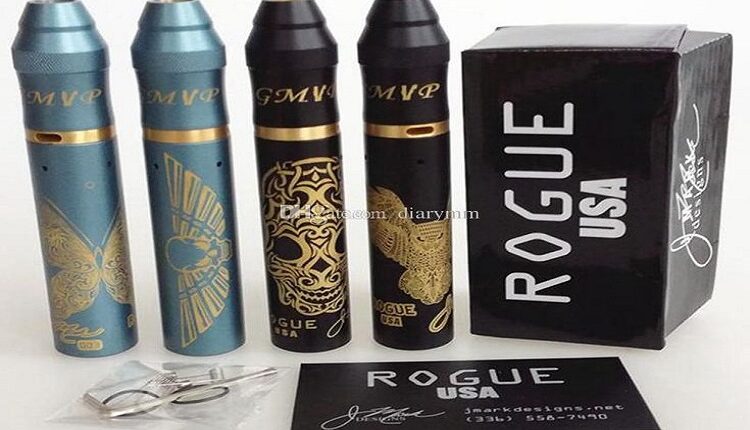 Rogue USA Clone Review – Copper "Illuminati" Hybrid Mech Mod
I've been wanting to get my hands on this beautiful Rogue USA clone mech mod for a while now, since I got my copper Goon RDA. I waited for a few user reviews to pop up, and decided to get it after it got an almost 5-star rating on FastTech.
Right out of its simple cardboard box, the Rouge USA clone didn't disappoint. I got the "Illuminati" design Rouge clone, but there are other designs to choose from as well. Some designs appear to be laser-etched, but the Illuminati Rouge USA clone was deeply engraved.
I got the copper mech, but you can also get the brass version. At the time of this review, there is no stainless steel Illuminati mech mod, but the other designs do have an SS variant.
Anyways, the copper Rouge USA clone is exactly what I needed to complement my 24mm Goon RDA, and it worked out well.
Overall, this mech mod is way better than the Complyfe HK Knurled clone and the Rig V3 clone I reviewed before. It's also better than the Shorty Subzero clone, which is not a hybrid.
Let's get the basic specs for the Rouge USA clone:
24mm wide x 88mm tall
Copper / brass construction (clear coated)
Hybrid 510 connection
4 vent holes on top and 2 at the bottom
Uses a single 18650 battery
Now let's get to the pros and cons.
Rouge USA Clone Mech Mod: Pros
It's dirt cheap – At just $16, you cannot resist at least trying it. The authentic Rogue USA mods cost well above $120 for the basic versions.
Beautiful, deep engraving – It's hard to tell from the pictures, but as you can see in the video, the engravings are deep and smooth.
Good throw in the switch – This is going to be subjective, but I liked the throw of the switch, which uses magnets.
Real copper tube – Yes its real copper, including the switch and the button. However, there's a clear coating that will prevent oxidation. If you want the patina, you need to strip off the clear coat.
It hits really hard – Surprisingly, this mech mod hits like a beast. I observed ver minimal voltage drop.
Rouge USA Clone Mech Mod: Cons
Threading could be tighter – The switch needs to be threaded in, and I feel like it could be a bit tighter. It's not big deal, but sometimes when you hit the switch at a certain angle you will start unscrewing it a little.
Yes, there isn't too much to complain about this simple, beautiful Rogue USA clone mech mod. In fact, I'm thinking about getting a different design in brass pretty soon.
I will also probably strip the clear coat and try to get it to patina along with my Goon. The Goon is a perfect match for this mech, and the vape I get from it is heavenly.
Overall, this is a highly recommended clone. If you do not object to clones, check out also my best clone vape tanks compilation.
Click Here for Rogue USA Clone Best Price