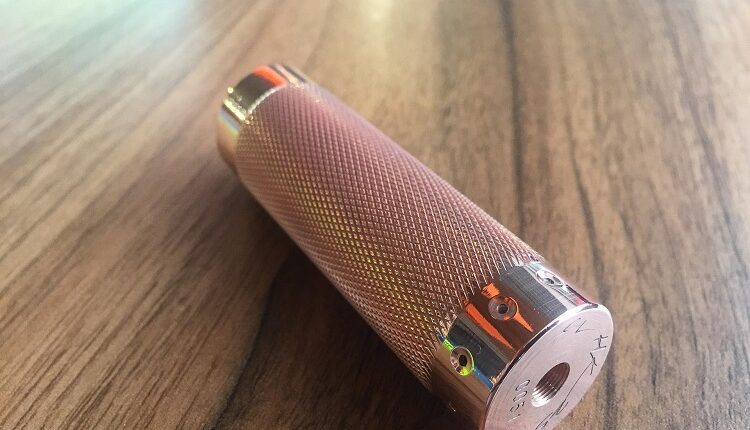 Complyfe HK Knurled Clone Review
Does this Complyfe HK Knurled clone even come close to the real deal? Considering that the authentic HK Knurled mech mod costs about $230, what should you expect?
To be honest, I was not sure what to expect. There are many Complyfe HK Knurled clones out there, and this one was provided to me by Fasttech for the purpose of this review.
Here are the specs:
Brass construction for the mech mod and RDA

Triple-post build deck, similar to the AV atomizers

Copper center screw, 510 threading hybrid connection

25.5mm overall diameter, 97mm tall including the RDA

Magnetic fire button

Houses single 18650 battery (battery sold separately)
As far as I know, there is no separate clone just for the mech mod. All the clones I've seen come as a kit.
WARNING: This is a hybrid mechanical mod, and is not recommended for beginners. A good understanding of mech mod safety and Ohms law is required before you can use a device like this.
Complyfe HK Knurled Clone: Pros
Lets start with the pros of the entire setup, mech mod and RDA:
It's dirt cheap –

Of course, I have to mention the price. For just under

It looks gorgeous –

As you can see in the video, the KH Knurled mod and RDA are a perfect match. The paint job is ok on the clone, although it will probably not withstand scratches.

It hits pretty hard –

I noticed no voltage drop on this. I would say that if there is any actual voltage drop, it will be minimal. With a paralel 26g Kanthal A1 build, it spews out vapor like a beast.

Sturdy switch design –

I love the switch design, feels sturdy and the magnets are just right. The brass button is a good detail to include.
Complyfe HK Knurled Clone: Cons
Keep in mind that some of the cons are based on the authentic HK Knurled mod, while some are for the clone itself.
Triple-post design –

I know a lot of people hate it, and on a bad day I avoid building on these decks as it can drive me nuts.

Fixed airflow design –

Nope, I just cannot use an RDA with fixed airflow. I understand that this is perfect for cloud chasers, since they would leave any adjustable airflow wide open anyway, but its' not for me.

Messy paint job inside the RDA –

This is easy to overlook since it's not visible. In the video you can see that I manage to clean out the brass inside the RDA, but that made the overspray more visible. You can however easily clean that up with a paint remover.

Weak o-ring on the RDA –

I didn't notice this at first, but over time it became more obvious.

Small gaps with the included RDA –

I do not think you can eliminate all gaps in this setup. Even after adjusting the 510, there will be a small gap near the switch. However, different RDAs on the mech mod work much better and I can completely get rid of gaps.
Well, there you have it!
Overall, the Complyfe HK Knurled clone I received from Fasttech was a pleasure to use. Most of the faults are with the RDA. The mech mod itself is a beauty, weighs like it should, and hits hard.