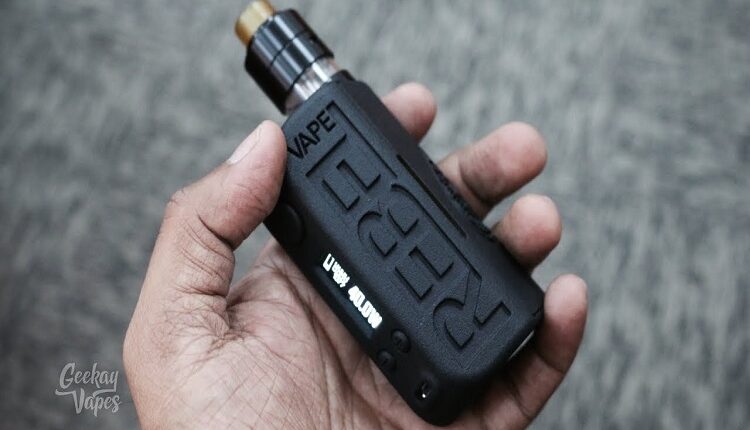 Rebel Squonker DNA250 Review & Issues
The Rebel Squonker DNA250 mod is perhaps the most powerful regulated squonk mod available today, since the Lost Vape Drone has been discontinued. Rebel Vape has made a name for themselves with high-quality 3D-printed mods using both DNA and YiHi boards.
The Rebel Squonker therefore has a very solid base to build upon, but they get it right with this squonk mod?
When my Rebel Squonker mod arrived in the mail, I was disappointed to find out that it wasn't a squonk mod at all. Rebel Vape had actually sent me the wrong item – a regular DNA75 mod for dual 18650 batteries.
I sent it back, and received the actual Rebel Vape DNA250 squonker almost a month after my order. This time, they got it right. However, as you will see in the video, I got the wrong extra set of doors and they also skimmed a little bit on the squonking stuff.
Here are the basic specs for the Rebel Squonker:
Evolv DNA 250
H 88mm X D 39mm X W 24>40mm
Takes up to a 26mm Tank with no overhang
Variable Watts and Temperature control
Uses 2 x 18650 batteries (NOT INCLUDED)
Output Power 1W – 167W
8 User Profiles and various modes
2A USB Charging
Escribe support with upgrade
Plastic 3D Printed housing
OLED Screen
Keep in mind that there are other Rebel Squonkers like the DNA75C version, but my review if based on my experiences with the DNA250 (or should I say DNA167) version only.
Rebel Squonker DNA250: Pros
Excellent build quality – Except some minor issues with the door, this is a solid mod with excellent build quality. Flawless 3D printing, as you can see from the logo area. Sharp, crisp and no printing lines. Sure, the color scheme I got (Ally Black) makes it look much better, but I cannot find any fault with the build quality. The buttons are firm and responsive, a pleasure to use.
Manually tested and certified – Right on the packaging, you will see a list of tests done for each Rebel Squonker mod they ship. It's always great to know that a human being actually tested YOUR mod before sending it out to you!
DNA50 power & accuracy – DNA boards have their share of critics, but only from high-performance vapers (clouds chuckers) who mostly complain about everything. If you love to vape higher wattages and in temperature control mode, this is the most powerful regulated squonk mod you'll find as of today. WIth Escribe, you can tweak the DNA250 board any way you want.
Super light & comfortable – It weights as much as an atomizer without the batteries. It feels very good in your hands, and the squonk bottle is in the right place. Even after using tiny 3D-printed squonk mods for a long time, I found the Reberl Squonker to be very familar, probably because I used a Wismec RX for a long time in the past.
Rebel Squonker DNA250: Cons
Hefty price tag – It costs 199 Pounds, which is a lot of money. Some people would opt to go for the Lost Vape Drone over this, but the Drone has been discontinued. Also, the Drone had it's own share of issues and looks rather ugly. Maybe a new Drone will pop up soon, but until then this mod is in a leage of its own.
Outdated squonk parts – The Fat Daddy Vapes 510 used in the mod is by far the best by today's standards. A ModMaker 510 would have made this mods way better in terms of long-term reliability. There are also many other options for a squonk-ready 510 if only there were willing to do more research.
Silly YFTK clone bottle – Again, a bit outdated in their approach to making this a great squonk mod. They could have used a variety of different squonk bottles including the Lost Vape Therion squonk bottle as I explained in the video. Instead, they used a clone bottle by YFTK. The bottle isn't bad, but mods in this price range are already using Lukkos or Cappy bottles.
Over-branding – The logo on the door is totally redundant, especially since they have to destroy it for the squonk window. It just looks awkward and detracts from the squonk window.
There are other small cons and subjective cons, which I mention briefly in the video. Overall, there are definitely more pros than cons for the Rebel Squonker DNA250 mod by RevelVape.
Having a powerful regulated mod is great. I've done more ambitious builds in my existing RDAs, and managed to get a totally different experience from them. My Goon, Goon 22, Kryten and more shine in the Rebel Squonker because I can easily dial-in the power and use complex Clapton coils.
Unlike a DNA75 regulated mod, or a mechanical squonk mod, the Rebel Squonker DNA250 can help you get a better vape across many different RDAs. Single coil or dual coil, 22mm or 24mm, there should be no problem with the squonk mod.
Get The Rebel Mods Squonker DNA250
Get The Rebel Mods Squonker DNA75C