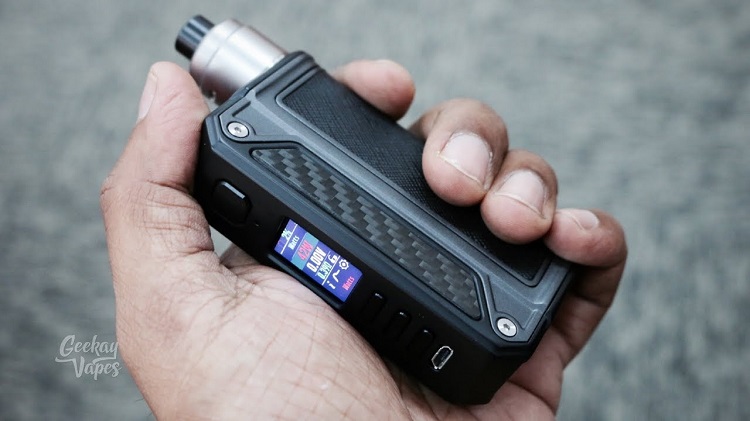 Lost Vape Therion BF DNA75C Review
I have been waiting to review the Lost Vape Therion BF DNA75C mod for a long time. It's frustrating to see all the reviews come out when I'm still trying to buy one. I guess there's always that perk when your channel is literally sponsored by the vape companies. On the other hand, I have to buy everything myself.
Anyways, it's better late than never! I hope my subscribers would still want to watch it, if just for my opinion on things.
I missed out on the first generation Lost Vape Therion BF. I waited for more color options, and it was discontinued. So I didn't want to miss out on this, especially since I've done so much work reviewing squonk mods and squonk RDAs, even squonk bottles!
So here are the basic specs for the Lost Vape Therion BF:
Zinc alloy body construction
DNA75C with full color TFT screen & Escribe
75 watts max power, temperature control
Real rare leather (some doors)
Ebony wood or carbon fiber inlays
Spring-loaded 510 connector with nickel-plated brass center pin
Uses single 18650 battery
In my video, I don't explain much about the DNA75C because that would require a separate video by itself. Plus, there are a lot of really good videos that show you everything you need to know about the DNA75C.
Lost Vape Therion BF: Pros
Excellent build quality – I love the build quality of this Lost Vape Therion BF mod. No button rattle, battery door fits snug, and the finishing is excellent. The stickers (mine was not leather) is pretty well done and nothing looks like it's going to peel off anytime soon.
Functional, comfortable design – I am biased on this, because the Lost Vape Therion is one of my all-time favorite mods. I love how it feels. So naturally, seeing that the Lost Vape Therion BF is the exact same dimensions, I love the design.
Good value for money – Unlike the first generation, this time Lost Vape didn't include an RDA with the mod. I actually thing it's better that way since Lost Vape generally sucks at atomizers. However, this time you also get a very good squonk refill bottle.
Innovative squonk bottle – As I said in the video, the squonk bottle IS innovative with its pressure release valve. However, it's not very practical in real use. Still, I have to give them the thumbs up for the innovation.
Replacement doors and bottles – You can find a tons of replacements doors to have a different look on the Therion BF. Don't like the white bottle? Get a black or yellow bottle to match your door and the overall look you want to go for. Refill bottles are also available in many different colors, and these are pretty well made too.
Lost Vape Therion BF: Cons
DNA75 C performance – For all the additional features available in the DNA75C board, it really isn't that much better than the old DNA75. Users have reported that the board heats up, especially when pushing 65+ watts for long periods of time. I've noticed it getting slightly warm, although I generally vape at 40-50 watts max.
Ideal for 22mm RDAs – A subjective con, because it doesn't matter to me personally. RDAs over 22mm will have an overhand on the Lost Vape Therion BF due to the curves. Again, most of my squonk RDAs are 22mm, and I didn't even mention this con in the video.
Weight & size – This is a subjective con for those who prefer small mods. I personally don't mid the size at all.
With the Lost Vape Therion BF quickly becoming my daily mod, I've decided to let go of many more expensive squonk mods I own. Lost Vape has put a lot of thought into this mod, and it shows.
For a regulated squonk and affordable DNA mod, this mod comes in second after the VTInbox by Hcigar. This is because you'll need a good squonk RDA for this while the VTInbox comes as a kit with a pretty decent Maze RDA.
However, there are tons of affordable squonk RDAs you can choose from for your Lost Vape Therion BF, so there's no need to worry.