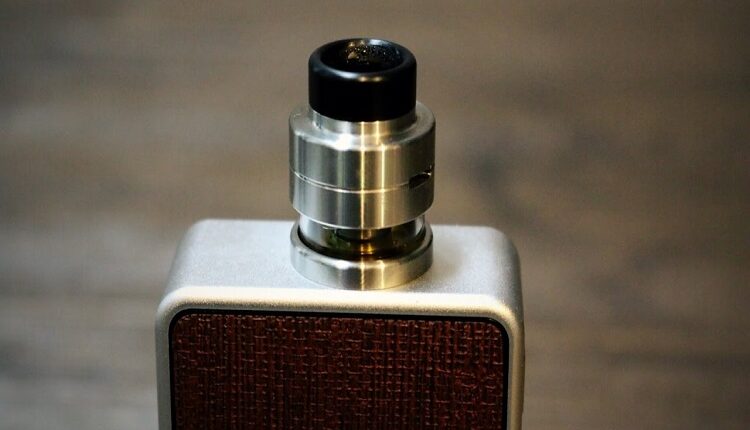 DNV Split Atty Clone Review
This DNV Split Atty Clone by Coppervape (I think) costs about $12, but you can also try the SJMY version which costs $16 but has awesome reviews.
This is a truly unique RDTA, since it comes with a squonk pin. Just like all the other bottom-feeding / squonking atomizers I have in my list, you can feed juice from a squonk mod into the Split Atty. The difference is that you'll be squonking into the tank itself!
The authentic Split Atty by DNV cost $160, just in case you're wondering.
I'm in no way suggesting you get the clone because it's cheaper. However, I do have a habit of getting the clones to see if I would want to invest in the real deal.
Here are the specs of the Split Atty clone:
Stainless steel construction with glass tank and delrin wide bore drip tip

2ml juice capacity with center fill pole

Dual-post design, with single-coil reducer

Adjustable airflow control on the sides

22mm overall diameter
Split Atty Clone: Pros
Good build quality –

The Split Atty Clone is well machined, with no machine oil residue when I received it. The o-rings are good and holding up pretty well. The airflow rings works, and threading all over this atomizer is smooth.

Small 22mm low-profile –

The build I have in here is prehaps pushing the limits of the Split Atty clone a bit to far. However, I generally prefer 22mm atomizers for flavor.

Fantastic flavor –

Everything you see in the video tells you that this atomizer was designed for flavor, and it delivers!
Split Atty Clone: Cons
The juice tube isn't threaded –

I've heard that the SJMY version is. This should not be an issue if you do not plan to use it as a squonking atomizer. The included screws will just sit there, since there are no threads. I stuff some sotton to close the tube when I squonk, as I show in my video.

Spitback –

Yes I was getting spitback because the coils are really close to the driptip. But then again, the build I have in here is a bit agressive for this atty. Go with a more reasonable build with good wicking and you'll minimize the spitback issue.

Wide bore tip –

The wide bore tips is redundant on something like this, if you ask me. Switch to a standard 510 driptip with the included adapter, and you'll bet a much better vape experience.
Conclusion: I was pleasantly surprised with the Split Atty clone.
I didn't know what to expect from it, but I can now see it as being part of my daily rotation. With adjustable airflow and the ability to use a single coil properly, I'm pretty sure I can get a build in there that is just perfect for me.
For me, the Split Atty clone makes more sense as a squonking atomizer. The juice capacity is pretty lame as an RDTA, but as a squonker it can hold more juice than any other RDA I've tried.