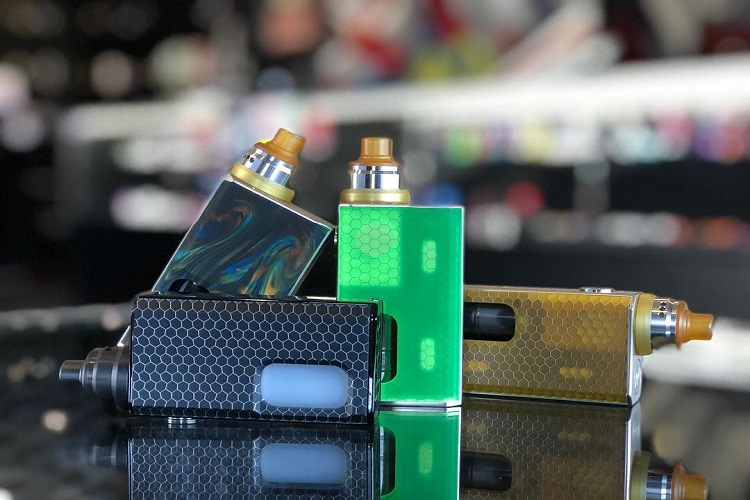 Armor RDA Clone by YTFK – Best Affordable Squonk RDA?
The Armor RDA clone by YTFK allows you to get a good feel of this year's most popular squonking RDA, the Armor 1.0.
Like most high-end atomizers, the authentic Armor is hard to get. You cannot buy it from anywhere except the secret Facebook group, which stays open for about 5 minutes every couple of months. The retail price for the Armor is about $95, but expect to pay about $200 or more when buying outside the group, mostly from "flippers".
I got myself the Armor RDA clone by YTFK to check out what all the fuss was about. It costs about $20 and comes in generic packaging. I'm really glad that clones have ditched the look-alike packaging, as it allows them to put more effort into the actual product.
Anyways, here are the details of the Armor RDA clone by YTFK:
Stainless steel construction

Dual-pole build deck design for single / dual coil building

Adjustable airflow system (dual slotted air slots on the sleeve)

Comes with bottom feeder pins

510 threading connection

22mm overall diameter
In the video, I am using it with the SVA Penguin clone mod also by YFTK. I think they make a great combo, and YFTK seems to be focusing on the squonk market more than other cloners.
Armor RDA Clone: Pros
Its a very simple RDA –

When you get it, if you've built on any type of tank before, you will know exactly what to do with it. Sometimes looks can be deceiving, but not this time.

Easy to build –

The two-post design is easy for a single coil build, and not too troublesome for a dual coil build either. However, this RDA is not meant for the larger coils, and will most definitely not fit them.

Flavor is great –

The low profile helps, but the magic of the Armor RDA clone is the airflow. It doesn't look innovative, yet you get a smooth vape with little to no spitback. The single coil reducer blocks off enough of the unwanted airflow for a single-coil build.

Made for squonking –

This is why the

Armor RDA

clone has earned itself a spot on my

top squonking RDAs list

. It was made for squonking! Juice fills both sides evenly and over-squonking will not cause leaks. Except of course, for

over-over-squonking!

As 1:1 as it can get –

I tried on a couple of authentic Armor RDA accessories, and they all fit perfectly. This clone is as close as it gets. Machining is great, and threads are smooth.
Armor RDA Clone: Cons
Weak o-ring(s) –

I found this to be a common problem with vape clones. The o-ring on the reducer will probably be the first to go as it will scrape off the sharp end of your leads. The other o-rings have held up pretty ok so far.

Not easy to unscrew –

The topcap does not latch on to the base. Therefore, when you have juice lubricating the o-rings, you cannot simply twist it off. You need to take off the topap and grab a hold of the base to unscrew.
I was so impressed by this Armor RDA clone, that I got myself an authentic. Not from the actual secret group of course, since that is close to impossible. And of course, higher than the retail price.
I doubted if it was worth it, but when I think about the amount of time it's going to take to wait for the next list, not win anything, and wait for the next randomizer list, and still not win anything…. My time is worth more than that!
So my conclusion on the Armor RDA clone is that, it's well worth the money spent. There's also an SXK Armor clone, but I do not have that. This YTFK version more than did it for me.