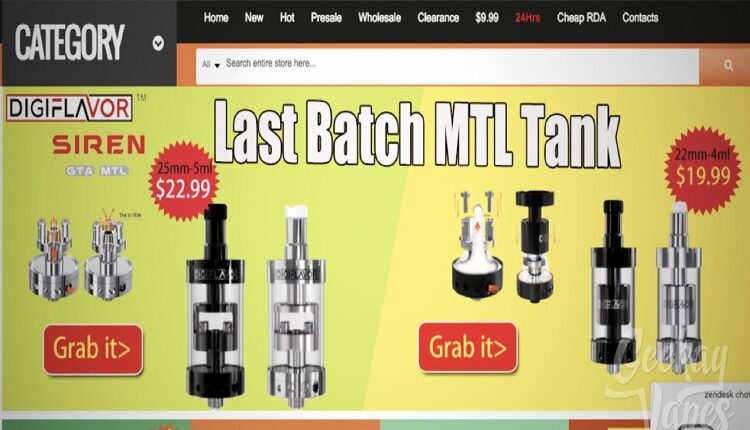 Efun.top – The Best Place for Affordable Vape Gear?
Efun.top is no mystery to long-time vapers interested in a good deal. Based in China, they are one of the top online retailers for popular vape mods, atomizers, tools and e-liquids.
However, some of you may still not be familiar with Efun.top, and may not fully understand the benefits of shopping here. So let me fill in the gaps!
Efin.top operates out of China, but ships internationally. You'll be able to find tons of authentic products at a low price. In fact, clones only account for a small percentage of their overall inventory, under the category "Cheap RDA".
Here's why tons of people love shopping at Efun.top:
Low prices –

Everyone loves low prices, and one of Efun.top's piorities is to have the lowest price possible. You can compare any item on their site to competitors, and you will find that it's either the same or lower.

Cost-effective shipping –

Chinese companies are killing it right now, because of their low shipping costs and willingness to ship worldwide. This is the #1 reason I buy from them (besides the low price). Efun.top has one of the lowest shipping rates among the top-tier online vape stores. Each item is sent with tracking information.

Wide range of brands –

Although you will not find many high-end items here (excluding some

popular DNA mods

) the site is diverse with every other brand. Authentic mods and atomizers from Joyetech, Wismec, Eleaf, SMOK and more are always in stock.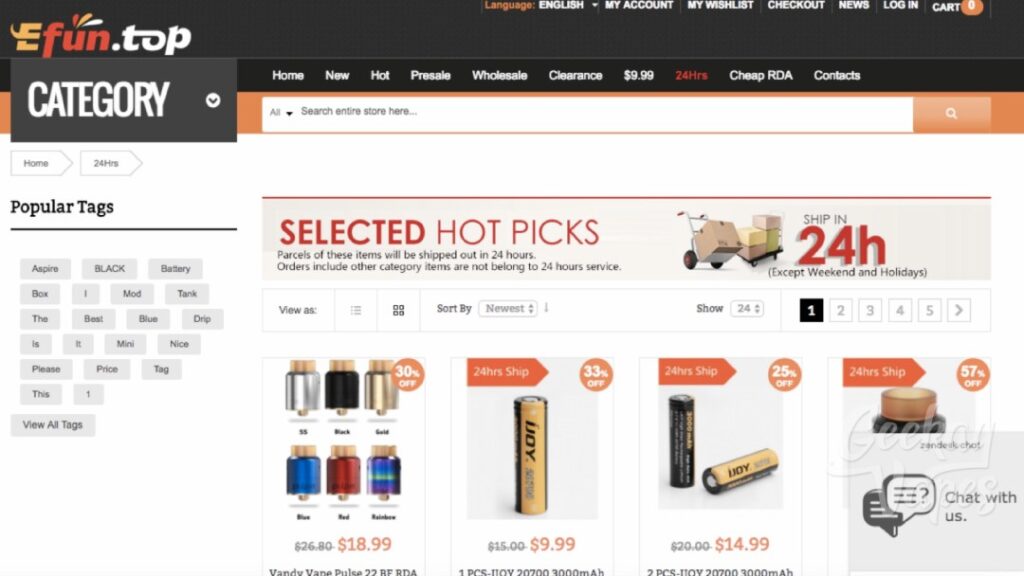 Plus, they also offer customers many other benefits and deals. I never knew these existed until recently, and here are some of them:
New Items In Stock Pretty Fast –

Compared to their competitors, Efun.top usually stocks the latest and greatest vape items fast. In fact as a reviewer, I find myself reading about the latest mods and atomizers on their site. You can

find the latest items in the "New Arrival" category

.

Special Offers & Deals –

You'll be able to find time-limited deals for popular items, with discounts and coupon codes automatically applied during checkout. That way, you will never miss a deal simply because you didn't know the coupon code. You can

check out their "Flash Sales" category

for the latest offers.

24 Hours Shipping –

Some items on the website will be shipped within 24 hours, perfect for the impatient vape out there. You can view these products easily using the

"24Hrs"

tab right on top.

Guaranteed Pre-order Lowest Price –

All preorder items on Efun.top are guaranteed to be the lowest you can find online. If the pre-order price is slashed after you've purchased, but before its shipped out, you will be refunded the difference automatically!

Guaranteed Delivery Within One Month –

If you did not receive your order within one month, Efun.top guarantees to refund our entire purchase. Wow!

Custom Shipping Invoice to Avoid Tax –

All items shipped have a low value declared in the invoice, to avoid customs or import tax. I cannot tell you how much I truly appreciate this, after paying 20% tax when I purchase from companies that

insist

on declaring the

full

value.
Here are some of the deals available on their site today:
Overall, I have had a good experience with Efun.top. I've purchased may items from them in the past, including an authentic Volcano Lavabox DNA75 for just $39. Of course it was on a special promotion, but you're talking about something that retails for $99 everywhere else!
If there's any room for improvement in the Efun.top website, I would say its the customer support tracking.
On their website, a few email address are listed for inquiries and support. However, I would much prefer a proper ticket management system that is linked to my account. That way, when I log in I can easily see my previous support tickets and the status.
For web publishers, Efun.top also has an affiliate program that is integrated into their site. This is another place they can improve. The affiliate system is too basic. I would prefer if they used Shareasale like most of their competitors do, which allows for better tracking and reporting.
Overall, I think Efun.top is a great resource for anyone looking to get great vaping deals. If you're frustrated that other sites don't ship to you, or ship at a ridiculous cost, try Efun.top. As they said, you should get your money back if you do not receive the item within one month!
Visit them here: www.Efun.top