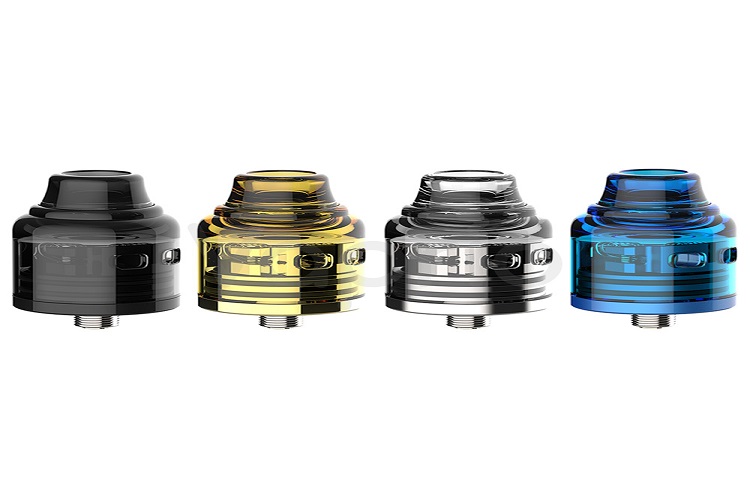 Oumier Wasp Nano Review & Squonking Tips
The Oumier Wasp Nano is making waves in the squonking world – for just $15, this tiny atomizer has many things a Hadaly RDA user would love.
It's not a cloud chasing RDA, and doesn't even pretend to be one. The Wasp nano was built for flavor, and it excels at that.
Here are the specs for the Oumier Wasp Nano:
22mm diameter X 27mm height
Stainless steel construction with ultem (PEI) topcap
Single coil build deck, stainless steel or brass
Gold-plated 510 center pin
Bottom-feeding center pin included
510 driptip compatible topcap
Spare o-rings & allen wrench
Its really a very simple atomizer. It's meant for a single coil build, and the deck area has been largely blocked off by the posts. It's doesn't try to be everything to everyone.
Oumier Wasp Nano Review: Pros
Here are the things I absolutely love about the Oumier Was Nano:
Easy to build – Flat wires shine in the Hadaly, while round wire or Clapton wire will work perfectly in the Oumier Wasp Nano. You can use flat wires as well, but not the larger ones.
Smooth airflow – I love the simple side airflow that is controlled by the ultem topcap. The aiflow is not as great as the Hadaly RDA, but it's pretty good. The air gets right up close to your coils.
Great flavor – The reduced build are certainly make the flavor sharper. The coils are close to the top, but I was not getting spitback from the build I had in there.
Oumier Wasp Nano Review: Cons
Of course, there are cons as well, and here are some:
Uncomfortable topcap – This is going to be subjective, but I found the topcap shape to be a bit uncomfortable. It seems like its going to slide off my lips, but you can get used to this pretty fast.
Ultem – Another subjective con. I loved ultem months ago, but I'm starting to tire of it, especially since everyone seems to be using including it in their RDAs. I think there should have been an alternative (forsted maybe?) topcap provided, even if that meant a slightly higher cost.
Overall, I give this tiny rda two thumbs up. While it doent's have the pedigree of the Hadaly RDA, its a great substitute at a great price. I would put this as one of my all-time favorite squonking RDAs for use with regulated squonk mods.
It's definitely worth getting. I do hope it gets popular enough that we'll see third-party topcaps for this.