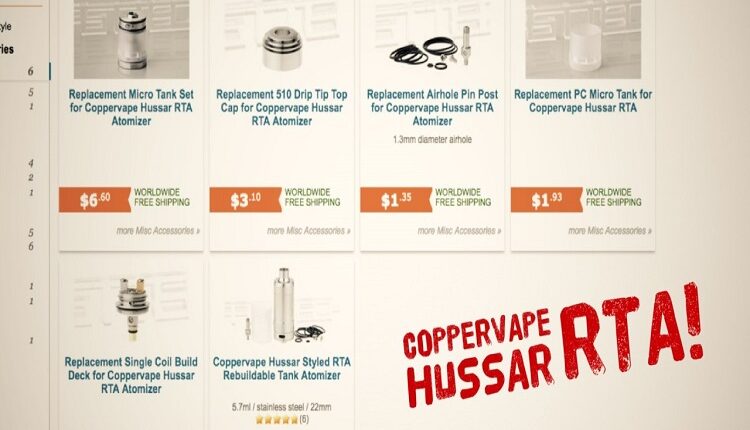 Coppervape Hussar RTA Clone – Single Coil Deck, Torpedo Cap, Micro Tank, MTL Kit
I have to update this as a blog post, because I already have the authentic Hussar RTA V2 and I do not think I will be getting this awesome Coppervape Hussar RTA clone.
As you've seen in my SJMY Hussar RTA clone review, the build quality was great and everything worked perfectly. However, most clones came with the dual coil deck only, including other Hussar RTA clones.
This Coppervape clone was initially released with the single coil deck only, but now Coppervape has gone the full mile by also releasing:
The single coil deck seperately, although I'm not sure if it fits the SJMY version

The Torpedo cap, which is by far the most popular Hussar topcap

The micro tank, which also has a replacement PC section

The MTL (mouth-to-lung) replacement airflow kit with lots of o-rings
This is significant.
Rarely do cloners create the accessories for popular vape clones, even for tanks like the Kayfun 5 clone. I think if Coppervape keeps this up for other popular tanks, they would have a lot of converts from SJMY and SXK.
The reviews are good for the full Hussar RTA clone, and I expect the accessories and replacements to be just as good. If you're looking for clones, check out my best vape clones list.
The Hussar RTA is one of the best flavor-chasing atomizers today, and the authentic (full kit as above) would easily cost you about $300. If you can afford it, get the authentic, otherwise you'll see how amazing this Coppervape Hussar RTA clone is.
I actually got myself the authentic Hussar just days before realising that Coppervape released all these extras. I have no regrets, as I do want to support these companies that put in so much effort is testing and development.
However, I can tell you that the quality of the authentic Hussar is no better than the clones, except maybe for the o-rings. Get the Coppervape Hussar RTA clone before its discontinued!