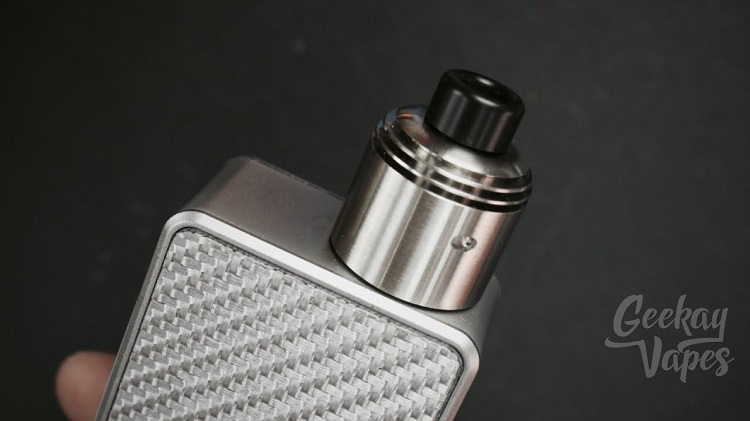 SJMY Hussar RTA Clone – A Flavorful Vape
The SJMY Hussar RTA clone is something you should absolutely try if you like a restricted lung vape, and you chase flavor. It's a pretty tall tank with a unique look.
Here are some specs for the SJMY Hussar RTA clone:
316 stainless steel construction

22mm width & 64mm height

Fixed drip tip, but you can insert a 510 driptip on top.

Polycarbonate tank with 5.7ml juice capacity.

Dual coil deck with each access to your coils.

Adjustable airflow control.

Juice flow control.
The authentic costs $200, so this SJMY clone is well worth it at just $21. and you can get it There are two deck options for the authentic – single coil & dual coil – as well as additional top cap designs you can purchase separately. The SJMY clone comes with the dual coil deck and standard topcap only.
Perhaps some day, SJMY will make more accessories for the Hussar RTA.
SJMY Hussar RTA Clone: Pros
Here are some pros for the SJMY Hussar clone:
It has has excellent build quality

All the parts fit perfectly, and I have had no leaks

The juice flow control is easy to use, although there should be an indicator on the open/close positions like the authentic does

The topfill works like a charm

The airflow is tight and dense

Flavor is great, with nice dense vapor
SJMY Hussar RTA Clone: Cons
The slightly flabby o-rings on top (as I show you in the video)

The dual coil deck is tiny and can only fit small round wires

Doesn't come with a single coil deck

Some may hate the fixed stainless steel driptip
To tell you the truth I was surprised by the vape I got from the SJMY Hussar RTA. You will probably make some mistakes with the juice flow control initially since there are no Open/Close markers.
So if you have the juice flow open while filling from the top, it will leak. No worries, just turn the tank upside down after fixing the topcap, and let the pressure stabilize.