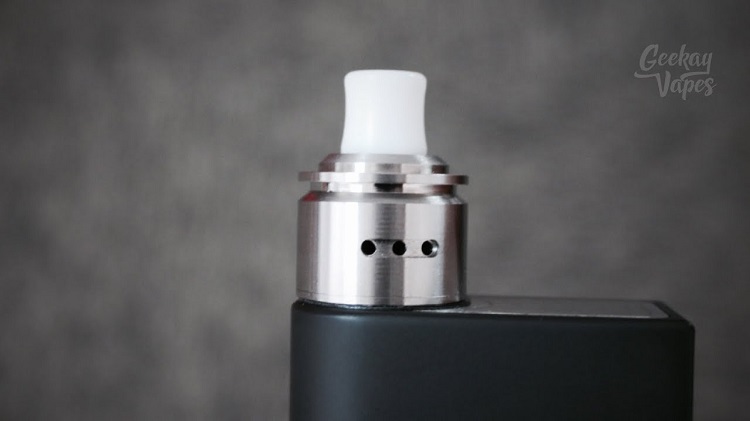 Vaponaute Le Concorde Review – MTL Squonking RDA!
The Vaponaute Le Concorde RDA is their entry into the squonking market. Hopping on the bandwagon just in time, the La Mirage will see a limited production run of 1,000 units. This is not surprising for a Vaponaute product.
Quick details for the Vaponaute Le Concorde:
Costs €118

22mm X 24mm (without driptip), no driptip provided

Stainless steel 316L construction with PEEK insulators

Includes bottom-feeding pin and standard 510 pin

Single-side airflow, dual / single coil deck
I got my Vaponaute Le Concorde RDA on launch day locally, and right now it may be pretty hard to get. I am willing to part with my Vaponaute Le Concorde to the right buyer at the right price, so please get in touch if you really want one.
So let's get into the pros and cons of the damn thing. Watch the video for tips on building and wicking with the Vaponaute Le Concorde.
Vaponaute Le Concorde: Pros
Fantastic build quality –

When you buy a Vaponaute, you know that you're always getting the best materials with impeccable build quality. This one is no different. Magnificent machining and finishing.

Fantastic flavor –

The flavor from the Vaponaute is second to none. However, it will only work with smaller coils or round wire due to the limited airflow. Get your build right about 0.5 Ohm to 1.2 Ohm and you'll be enjoying your vape for weeks.

Perfect for squonking –

The Vaponaute La Mirage in my opinion works best as a squonking RDA. I say this because it has a short profile, small wicking area and shallow juice wells. It looks prefect on my

DPM Li-Mo

or you can try getting the

SVA Penguin

/

SVA Punto Zero

clones to test it out as a squonker You can of course drip it like a regular dripper if you still want to.
Vaponaute Le Concorde: Cons
Price is steep for what you get –

At almost $135 (current exchange rate) it's on the higher end of the spectrum. Some can justify the price since this is a collectible, but I'm pretty bummed that it didn't even come with a driptip. Then again, my

Vaponaute Le Mirage

and Le Zephyr didn't come with tips either. You can get a matching

driptip from JMK tips

and solve the issue of course.

Restricted airflow –

Airflow is only on one side, and is funneled to the middle. Therefore, it's very restricted. Even with the airflow fully open, you will not like it if you're using to something along the lines of the Hadaly or

Soul S

.

Topcap gets hot easily –

Again this is subjective to your build, but in my opinion the topcap gets hot faster than other similar RDAs I have used. In my opinion, the

Vaponaute La Concorde

will be perfect with an ultem / acrylic / Delrin topcap. With better heat insulation, you can use Clapton coils without issues.
Look, this is a fantastic RDA by Vaponaute. But, it's not for everyone.
If you like the Halady-type airflow, this will give you half of that. If you love MTL vaping, this is a god-send. It's still a fantastic collector's item though.
Rumor has it that many famous modders are already making topcaps for the La Concorde. If you happen to see some, grab it right away. It will improve your Le Concorde experience for sure.
Remember that the Le Concorde is a limited-run RDA, so get the accessories you want right away. No one will be making them in the future.
If you really want one but can no longer get it, there are pretty good clones you can try out for under $20. If you're not against clones, use the link to the best 1:1 Vaponaut Le Concorde clone available.