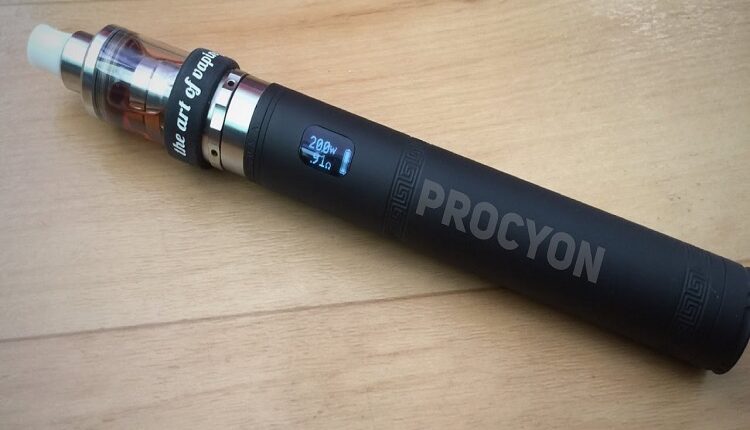 Provape Procyon Review – A Step Up from The Provari P3
In this review of the Provape / Provari Procyon, I'll show you my current favorite tube mod that does up to 50w and looks sexy as hell.
I published the actual video some time back, but didn't get to putting up the review on my blog, until I read about Provape going out of business. As a tribute to a great American company, it's better late than never to publish this review of the Procyon.
This is my second Provape product, after the Provape / Provari Radius I got more than a year ago. Since that review, I've come to appreciate Provape products more. So I may be biased about some things, especially the price and features.
First, lets talk about the name. I call it the Provari Procyon many times in the video. I can't help it, since the brand Provari is more well-known that Provape, and also because it says Provari on the box (more about that later).
Some people will correct me for that, pointing out that it should be the Provape Procyon. Regardless, you know I'm talking about the same thing
This is not going to be a standard review where I list of the specs and compare them with other mods. I just cannot do that with a Provape device. So let me just list of the pros and cons, relative to other Provape products, and compared to products in the same league like the Dani Extreme by Dicodes.
Provape / Provari Procyon: Cons
Lets start off with the cons, for which there are many.
Horrible packaging – Provape didn't even bother to give you new packaging for a new product. Instead, they slapped a sticker over their old Provari Mini boxes. The box looks faded and cheap. Not good.
Frustrating menu system – If you have never used a Provari in the past, you will be frustrated trying to navigate the Procyon menu. Unlike the Radius that has two additional buttons for control, you have to rely on the single button to do everything. That being said, the Dani Extreme V2+ menu system is even more annoying than the Procyon, so it's just something you have to accept.
No temperature control – After the flop of the Radius, I assumed Provape would be getting into TC is a meaningful way, although I expected to see it in a box mod. Still, the Dani Extreme V2+ that I own does temperature control pretty well, so there's o reason why you cannot have TC is a tube mod.
22m atomizers only – Anything larger than a 22mm atty would looks weird on the Procyon. This should not be that much of an issue, since there are still many 22mm atomizers out there.
"Made in America" as a feature – You kind of get this feeling that Provape wants you to believe "Made in America" is a feature (it's not). Still, they keep emphasizing this on their website.
Provape / Provari Procyon: Pros
Of course, there are many good things I can say about the Procyon:
Does up to 50w – The output limit is actually pretty good for a tube mod. The Provari P3 only did 20w, and the Dani Extreme V2+ does 40w. So relatively, this is a "powerful" tube mod.
Smooth output & vape – It's something you have to try yourself to understand. The Provape board / chip fires smother in lower wattages than Evolve DNA boards. Your flavors taste better, and you will truly enjoy the vape you get.
It looks and feels great – The mods has a solid weight to it, and top-notch construction. I love the way it feels in my hands, perfect balance with or without the battery in it.
Tons of safety features – Provape made a name for themselves for making the safest mods, and the Procyon is no different. Unlike the P3 and its annoying IQ (Input Quality) warnings, the Procyon can handle a lot of different atomizers at lower resistance without a fuss.
Warranty and repairs – I'm not even sure I should list this as a pro anymore, since Provape is shutting down. However, when I recorded the video there was still the assurance of lifetime care and maintenance from Provape if your device should fail or have issues.
You either love tube mods, or you don't.
For me, I've become increasingly fond of the form factor. Tube mods are more portable and classier than box mods. Its sad that very few companies are making them, and with Provape going extinct, it's just a matter of time before tube mods go the way of the dodo.
I'm happy that I own two Provape / Provari Procyons – the satin silver and stealth versions, and I look forward to keeping them for as long as I can.
There is also apparently a gold version, although you may find it hard to get a hold of one now that Provape is going away.