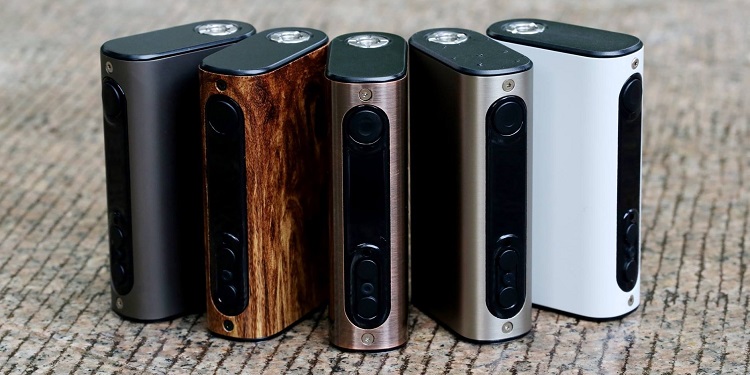 Eleaf iPower (iStick Power) Review – 80w, TC & Bypass Mode!
In this Eleaf Ipower / iStock Power review I try to explain as much as I can about this awesome 80W box mod, and hopefully you'll be able to see why I love it so much.
But first, the specs:
Dimensions: 3-1/4″ x 1-7/8″ x 7/8″
Battery Capacity: Built-in 5000mAh Battery
Wattage Output: 1.0 – 80.00w
Variable Temperature Control : Nickel / Titanium / Stainless Steel 316/ TCR
Temperature Control Range: 100 – 315C / 200 – 600F
Bypass (Direct Output Voltage) and Smart Mode
Resistance Range: 0.05-1.5ohm for Variable Temperature Control Mode
Resistance Range: 0.1-3.5ohm for Variable Wattage and Bypass Mode
OLED Display Screen
Bottom Ventilation Holes
Micro USB Charging Port
Upgradeable Firmware
Reset Button
Dual Circuit Protection
Over-charging Protection
Over-current Protection
Over-discharging Protection
Eleaf Ipower: Pros
I love the size, for me it's just right. I love the build quality and the looks, although I find the wood grain version fugly as hell. The design is simplistic but it works. No gimmicks.
I love the long-lasting battery of the Eleaf Ipower / iStick Power (which one is it anyway?) and I can get more than a full day of vaping out of it.
Eleaf Ipower: Cons
Charging the battery takes a long time, and sometimes I do wich it has replaceable 18650 batteries instead of the built-in ones. But, when its fully charged it lasts forever.
It fits only 22m or smaller atomizers – which is not acon for me but could be for you.
UPDATE: In the video I claim that you cannot adjust the wattage in TC mode. Actually you can make adjustments, by pressing the menu button and the up/down buttons at the same time. Sorry for that error.
There's really no other cons from me. I love it, love it, love it. In fact, I've started to auction off some of my older mods once I got the Eleaf Ipower.
Overall, doing this Eleaf Ipower review was fun for me, and I think it looks even better through the camera lens!