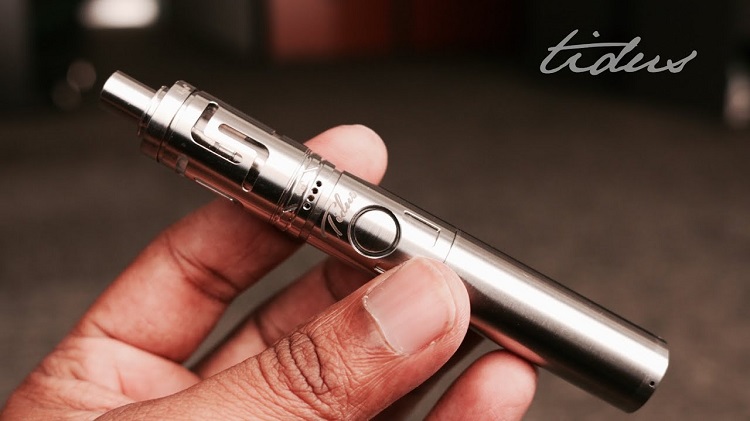 UD Tidus Review – Mouth to Lung Vape Pen
The US Tidus is small, compact vape pen for beginners. It's smalller than the Kanger Evod and Kanger Subvod, two starter kits I have. UD Technologies provided the Tidus to me for the purposes of this review, and I was glad to do it just because it looks so damn good.
Here are some basic specs fot the UD (Youde) Tidus:
304 stainless steel construction, wih a top fill design

Two different child-proofing locks on the topcap and tank

16.5mm

overall diameter, 120mm length, with 510 driptip and dustcap

800MaH

battery with micro-USB charging port

5-20w

(some sites claim 200w) / 4.8V output, maximum current 35A

Equipped with a "boost circuit" that minimizes voltage drop for a consistent vape
The kit comes with a USB cable, a 0.5 ohm and 1.8 ohm coil, dust-cap, and manual.
UD Tidus Pros
One word: Portability
It's small and the 800Mah battery should hold up for at least 5 hours of vaping on the 1.8 ohm coil. The vape quality is great for a mouth-to-lung device, more airflow and vapor than a CE4 for sure, and the Kanger Evod as well.
UD Tidus Cons
One word: The closed-system design.
I've seen this in some new vape pens, where the tank cannot be taken out and used in another setup. That's because the coil is fixed to the top part of the battery, and the tank / glass threads on top of that. So you cannot use the tanl or the pen / battery on anything else.
The Kanger Evod for example, uses a standardized Ego connection, so you can use the battery on many different atomizers. The Kanger Subvod uses a 510 threading, also compatible with other tanks.
Get the UD Tidus at the best price online here.