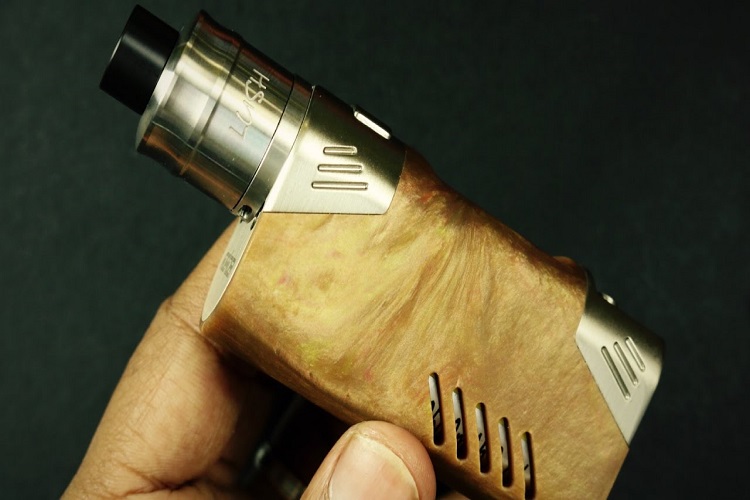 Aleader Orbit Review – 80W Resin Mod
The Aleader Orbit is one of those mods that you wish more people knew about, and wonder why almost all the reviewers missed out on. In this video, I will show you exactly what the Aleader Orbit 80W mod is about, and tell you what to expect if you plan on getting one.Here are the specs for the Aleader Orbit:
Spring loaded 510 connection

Uses single 18650 battery

Large battery vents on each side

Power from 5w to 80W

Maximum 8.0V, 30A output

23mm diameter at the 510 port

USB pass-through charging

Temperature control in Ti, NI200, SS316L
Now, let's get into the pros and cons for the Aleader Orbit.
Aleader Orbit Review: Pros
Good-looking mod –

The resin effect makes the mod stunning, comparable to more expensive

stabwood mods

.

Good build quality –

Other than the button rattle (see below), the overall build quality is great. The battery door is easy to remove, and the threads are smooth.

Compact single 18650 –

It's small, lightweight, can be charged via USB. This can easily be your all-day travel

vape mod

.

Decent chipset that works –

It's not a DNA or YiHi board, but it's decent enough to get your regular power mods, and the temperature control modes work well. The menu system is fairly easy to learn.
Aleader Orbit Review: Cons
Button rattle –

Yes its unmistakable. Most people cannot live with this, while others don't care. Also, I've received comments that only some mods have the rattle.

No firmware upgrades –

You will not be able to update the firmware on this mod.

Random color –

This is only an issue if you plan to get the

Aleader Orbit

online. Most online retailers sell it as "random color" which means that you don't really know which color you will get. You may want to try contacting them after the purchase choose your color, or you can try getting it from B&M stores.
Overall, the Aleader Orbit is a decent mod to own, even if you are a beginner and this is your first mod. It is not as good as most DNA mods in this list, but it also costs much less.For the price, it has everything you need to use it daily, fits most 23mm and 22mm atomizers, and does temperature control. Highly recommended.