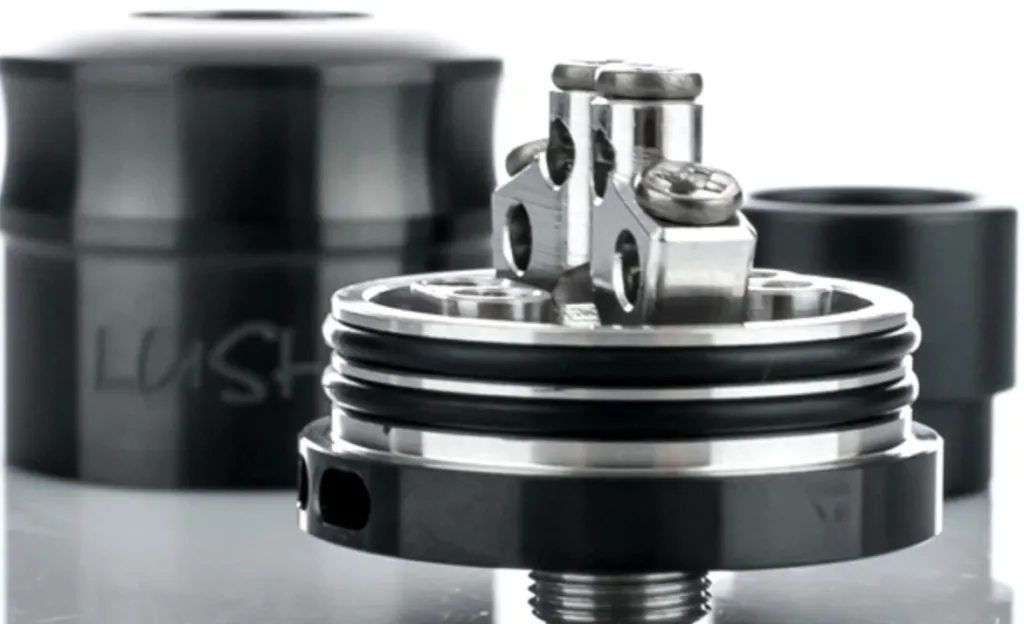 Wotofo Lush Plus Review – Flavor & Simplicity
The Wotofo Lush Plus is a simple but superb RDA, and as you will see in this review, is pretty well built. Don't get this confused with the older Wotofo Lush RDA. This one has the word "Plus", thanks to the ingenious naming system by Wotofo
Some RDAs are meant for blowing big clouds, others are meant for chasing flavor, but the Wotofo Lush Plus seems to do both really well.
Here are the specs for the Wotofo Lush:
24mm overall diameter

Made of 304 stainless steel

Delrin wide bore driptip (non 810 or 510)

Dual post deck with 4 staggered holes & PEEK insulator

7.7mm deep juice well

Gold plated 510 contact pin
The Wotofo Lush Plus doesn't scream for attention, nor is it hyped up by reviewers. But taking a closer look, there are definitely lotf os pros and some cons for this minimalistic RDA.
Wotofo Lush Plus: Pros
Top-notch construction –

Wotofo has been delivering well-made RDAs and RTAs pretty consistently, and this one is no exception. The machining, threading and o-rings on the Wotofo Lush Plus is superb.

Small, chamfered topcap –

The topcap is short, and the chamfered topcap helps condense vapor.

Bottom air-flow –

I have always preferred bottom air-flow RDAs, so this might be a subjective pro. The Wotofo Lush makes dense, warm clouds.

Adjustable 510 center pin –

The Wotofo Lush Plus will be great on your hybrid topcaps and hybrid mech mods.

Easy to build on –

The unique deck makes it easy to insert and secure individual leads of your dual coil build.

Afforable –

At $25, its a good deal for an authentic RDA. Yes, there are cheaper options but I would also say I have tried RDAs that cost twice as much as the

Wotofo Lush

Plus that pales in comparison.
Wotofo Lush Plus: Cons
Bottom air-flow –

Yes this is also a con, since your can have leaks if you over-drip with this RDA. In reality, that rarely happens and hwen it does, its easy to just wipe away the access juice.

No airflow control –

The full-open bottom airflow seems to be just right for the build I have in the video, and I didn't need it. But it would have been nice to have some type of airflow control so that you can control the density and temperature of your vape, especially when you plan to use smaller builds or single coil.
Overall, the Wotofo Lush plus is a great RDA to have in your collection. As with any rebuildable atomizer, you may not get the vape you want the first time, but try a different build and you'll be surprised.