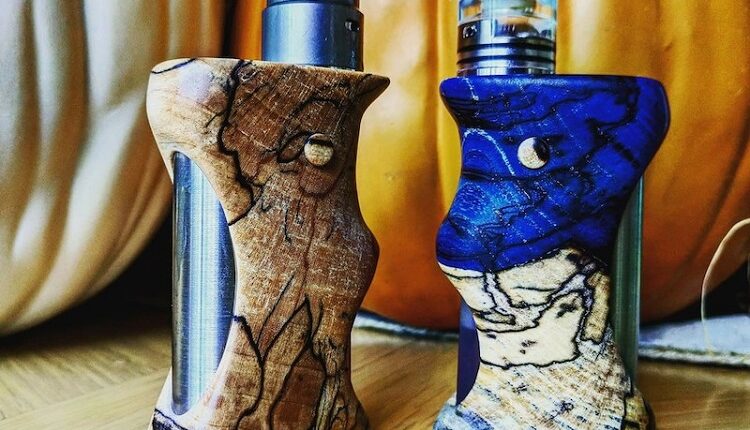 Best Stab Wood & Hybrid Mods – Regulated & Mechanical Mods Made From Stabilized Wood!
If you're looking high-end stabilized wood or hybrid stab wood mods, you've come to the right place. My mission is to list all the best stab wood mods right here with pictures, price range, tech specs and where you can get them on a single page.
When I wanted to get a stab wood mod, I realized how terribly inefficient the whole HEMO (high-end mod) segment really is. A lot of information is hidden behind secret Facebook groups. There a lack of third-party reviews, and the buying process is a pain in the ass.
In this list I will be using pictures of stab wood mods that I got from FB groups and Google, because I do not own these stab wood mods. If you want to be credited for the picture let me know.
** I am constantly growing this list, and information about stab wood mods can be hard to find. If you think I should include something in this list or got something wrong, please do leave a comment and let me know.
Stab Wood Regulated Mods
The most sought-after regulated stabilized wood mods. These do not include stab wood variations of mass-produced mods like the Kodama.
JB Woodworks
RRP: $380 – $660
Evan Ripple from JB Woodworks make all types of mods, but the stabwood squonk mods are really hot right now.
Elaine Benes aka Elaine V2 – 18650/DNA60/DicodesBF60

Cosmo Kramer aka Fishy aka Andrea – 18650/DNA60/DicodesBF60

Jerry Seinfeld aka Alexis V2 – 18650/20700/21700/DNA75C

George Costanza aka CANTSTANDYA aka JBBF Squonk 18650 Mosfet
Sohers Mod Design (SMD)
RRP: $450 – $600
Ghost Dragon is one of the newer designs from SMD, but they are always creating new freehand designs. They now also make stabwood squonk mods.
86mm hight (varies)
DNA75 / mechanical
1×18650
Carlos Creation
RRP: $480 – $900
One of the most sought-after devices, Carlos Creation puts the bling in your mod with a tons of accessories. The cream of the crop, stab wood mods are just a part of their entire high-end catalog. Sales is via their FaceBook group.
DNA40 / SX350J, 18650 or 26650 batteries
single dye / double dye stabilized wood
custom box, basic beauty rings included
Axis Vapes
RRP: $375 – $620
Based in the United States, Axis Vapes sells through a proper website and unique reserve-checkout system, where you can easily find the mod you want. No rafffles, X1 or other crap. The pictures are very accurate.
DNA200 (M17 models) opwered by a custom 1,100MaH LiPo battery
DNA75 (M17 mini) powered by 18650 or 26650 batteries
single/double dyed wood, hybrid wood, UV-reactive materials
large wood box packaging, no drip tip / extras included
Mellody Mods
RRP: $430 Upwards
The Mellody Box is an iconic mod, with a minimalist design. Sales are through pre-orders announced in the FB Group.
DNA40 chipset, 18650 or 26650
single/double dyed / hybrid wood
custom packaging
RRP: $580 – $650
Based in Malaysia, Blackrose has a very active FaceBook group where you can view their latest designs. Buying is through limited lists, X1 posts, or raffle.
DNA40 (most common) and DNA75 (newer models) chipsets
single/double dyed wood, some hybrid wood
stab wood driptip (included), beauty rings (included), wood box packaging
Dendro Mods
RRP: $799
The wood bodies are machined by hand with no help of CNC. All sales are done 1 at a time through this page. Sales are by X1 quickstrikes or randomizers.
DPM Mods International
RRP: $410
Based in Philippines, they make the Nataraki mod as well as other high-end non-wood mods and squonkers. Sales is via the FaceBook group or page by batches.
SX350J (most common) / 18650 or 26650
single dye / double dye / hybrid / advanced
custom box packaging
Vicious Ant
RRP: $400 – $800
Also based in Philippines, they make high-end mods, and the stabwood mods are only a part of their collection. You can pick up a mod directly from their online store.
SX350J (Duke SX), DNA75 (Primo)
18650 or 26650 depending on the mod
double dye / hybrid wood
custom box packaging, matching drip tip
ENT Custom Mods
RRP: $200 – $220
Based in Ukraine and managed by Yuriv Loboda, these minimalistic mechs are gorgeous. Buying is via periodic lists published on the FaceBook group.
single dye / double-dye, 22/24mm mods
copper, brass or stainless steel tubes & switches
stab wood driptips (add-on), wood box packaging