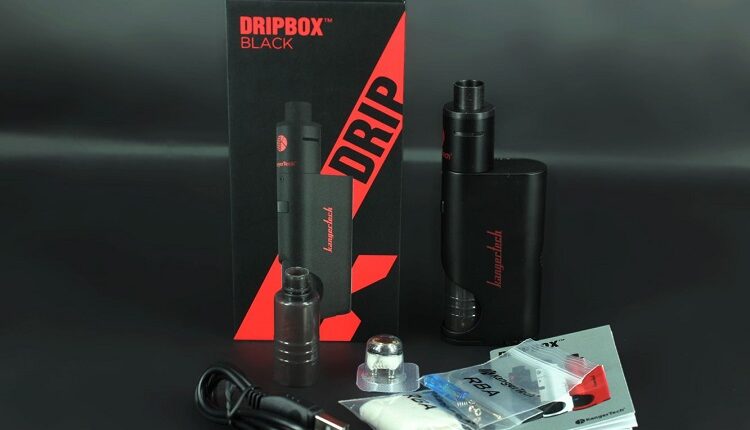 Kanger Dripbox 160 Review, Wicking & Comparison
I was so happy to receive my Kanger Dripbox 160 in my vape mail!
When I got the original Kanger Dripbox a month ago and took a look at it, I knew at some point Kangertech would released a bigger, badder, regulated version. I just didn't expect it to come so soon. Now, I have before me the Kanger Dripbox 160 and it has everything the original Dripbox didn't.
It's a regulated mod that supports 2 x 18650 batteries, powers up to 160w, supports temperature control for Nickel, Nichrome, Stainless Steel and Titanium – plus it it's got a way better paint job than the original.
In fact, I truly believe that this is the REAL Dripbox, and the earlier version was released in a hurry just to test the market. How else could they have released this so soon, if it wasn't ready for production?
But then again, it costs almost twice as much as the original unregulated Dripbox, so maybe it was intended for a different audience – hardcore RDA users who need at least 75 watts of power to enjoy their vape.
In this video, I compare the new Kanger Dripbox 160 to the older Dripbox, and also to the Squonk Mod by Steamcrave, and show you exactly how good this starter kit is.
I also show you two additional squonker / bottom-feeder RDAs that you can use instead of the included Subdrip RDA, which is pretty lame in my opinion. However, you can find even more bottom-feeding atomizers on this post.
Subdrip atomizer features:
22mm overall diameter
7ml juice capacity
Stainless steel construction
Adjustable airflow control
Kanger Dripbox 160 Mod features:
Max 160W output with all necessary safety features
Houses dual 18650 batteries
Stainless steel construction
So what do I think about the Kanger Dripbox 160?
Kanger Dripbox 160: Pros
It's definitely an improvement over the earlier Dripbox. Here are some of the pros:
Easier to understand and use – With the earlier Dripbox, you had a device that worked like a mechanical mod. You need to put in the right build in there to get the power you need. With a regulated mod like the Kanger Dripbox 160, you can dial in the exact wattage you need.
Can power most complex coils – The earlier Dripbox didn't work too well with clapton coils. You would get a long ramp up time. With the 160w you can get in the Kanger Dripbox 160, you can use any coil you want.
Temperature control vaping – Although the Kangertech board is not the best for temperature control, it does work. You now have the option of vaping in temperature control mode safely.
Great design and build quality – By the time the Dripbox 160 was released, everyone was already used to the shape of the Wismec Reuleaux. Kanger did a great job of fitting 2x 18650 batteries and a squonk bottle in there. The build quality and paint job is good.
Brilliant bottom-feeder design – The bottom-feeding mechanism is unlike anything the vaping world has seen. It works, its easy to clean, and it perhaps the most innovative part of the mod.
Kanger Dripbox 160: Cons
There aren't many cons with this one:
Pricier than the original Dripbox – Yes it costs more than the original Dripbox, but the extra cost feels justified in this one. Also, it costs way less than custom-made squonk mods.
22mm atomizers only – Because of the position for the 510 port, only 22m (or smaller) atomizers will fit without overhang.
Overall, I think the Kanger Dripbox 160 is a fantastic deal for anyone looking to get more vapor from their device. They have a done a good job with making the Dripbox 160 an overall great vaping experience. I highly recommend this device over the original Dripbox and the Dripbox 2, which till today doesn't receive as good ratings as this one.