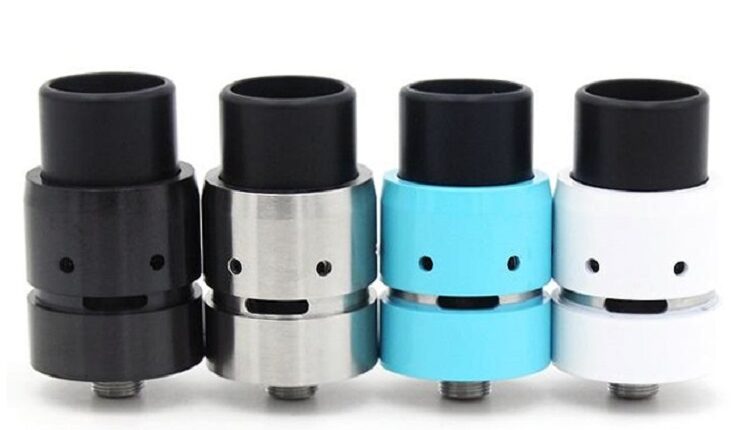 Tobeco Velocity Mini Review
The Tobeco Velocity Mini gets all it's best featuers from the full-sized Velocity RDA, but with a shorter profile and wider driptip. Plus, it comes with a squonking pin for your squonk mods.
Since there's no such thing as an authentic Velocity Mini, this falls under the category of "fantasy clone" – clones that take the best of the authentic and innovate to create a completely different product.
Here are the basic specs for the Tobeco Velocity Mini RDA:
22mm diameter, stainless steel construction

Velocity deck with deep juice wells

Copper center pin with PEEK insulators

Direct & indirect air flow

Locking wide bore driptip, with 510 driptip adapter

Bottom-feeding 510 pin for

squonking
The packaging is really simple, as you can see in the video. In fact, they've really packed it into the box, and you can barely close it.
Tobeco Velocity Mini: Pros
Here's what I liked about the Velocity Mini by Tobeco:
First off, the build quality is excellent on the Tobeco Velocity Mini. All the parts fit perfectly, smooth threading, no wobble.

I love the airflow, just like any other Velocity RDA.

The build deck is solid and the post screws are tough, does not strip away easily.
Tobeco Velocity Mini: Cons
Here are some things I did not like about the Velocity Mini, although there are mostly nitpicking cons:
The wide bore driptip is a bit too wide, you can get spitback depending on your build and wicking.

Nothing else really. I'm trying real hard to think of some cons here but just can't do it.
Overall, the Velocity Mini is an awesome RDA with just the right airflow and impressive build quality.
Get the Tobeco Velocity Mini at the best price here.
Get an alternative Velocity Mini (cheaper) here.
If you're looking for nice RDAs for your squonker, check out my list of the best bottom-feeding RDAs here. Also, take a look at my best vape clones list for affordable vape gear.