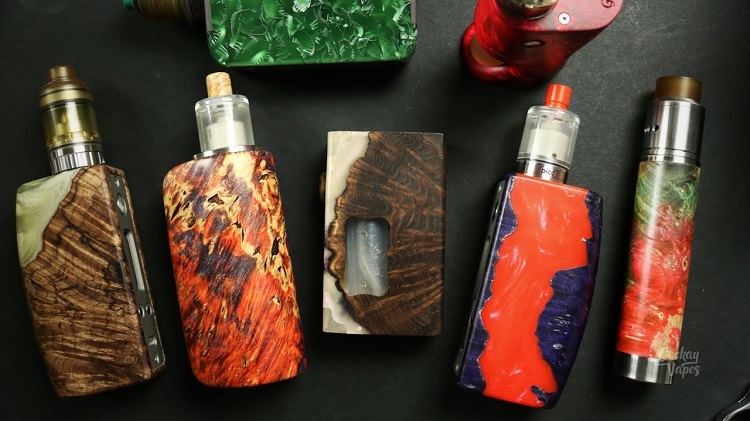 Stab Wood Mods – Hype Vs Reality!
Stab wood or stabilized woods mods are sexy, and can cost you an arm and leg. If you're looking to own a decent stab wood mod, you'll need at least $400, and we're taking about the low-end here.
But there's a lot of hype surrounding stab wood mods, and I this video I want to bust the myths and tell you what I discovered so far after six months of researching stab wood mods.
Here are the problem with stab wood mods, other than the cost of course:
#1 – Stab wood mods are impossible to research
If you wanted to get a good Evolve DNA mod, you can easily find tons of detailed reviews on YouTube. This is because the reviewers get them for free, or can afford the $100 required to get them.
On the flip side, stab wood mods cost a bomb. As a reviewer I am very unlikely to get one for free. I am also highly unlikely to spend $600 – $1,000 on something I cannot research myself, so you will find very few reviewers talking about stab wood mods.
There are exceptions of course, like A Bloody Good Vaping and Todds Reviews; but even on those channels only a handful of stab wood mods make an appearance.
Once stab wood modders have fans and repeat buyers, they do not need the extra promotion. This is because they only make at most 5 – 10 mods monthly on average, and the demand for them is so high, they sell out quickly.
#2 – Buying a stab wood mod is annoyingly hard
Most modders do at least 30% of the work by hand, making it very time-consuming to produce a good stab wood mod. As I said, no more than 10 mods are made per month at the most active point.
After accounting for mods that are sold wholesale, there's very few left to buy at retail from the modders themselves. So the competition to get one is pretty fierce, especially when there are a lot of people with fat wallets out there waiting for one to drop.
However, most modders claim that they have limited stock, therefore they are releasing like three mods to a crowd of 3,000 members. Then, you find group buys in other groups where more mods are available, and also some on chosen websites.
So what's really happening here?
I do believe some modders really just do this as a second source of income and therefore have limited time. But I do also believe that some of them limit production to control the price, and they get high seeing their mods sold for ridiculous prices in other groups.
#3 – Stab wood mods always look better in pictures
Of course, it depends on the quality of the picture. But generally speaking, when you see a picture of a stab wood mod on Facebook or Instagram, it looks flawless and enchanting.
When you have it in your hands, it actually looks less vibrant and feels less high-quality. This is because:
Most stab wood mods are light, and we sometimes equate weight with quality.

The wood may require constant care and polishing to actually "shine"

All the imperfections of the wood, and sometimes the modder's skills, are hard to ignore close up.
It's very common for stab wood buyers to regret their purchase, but that's where the Facebook cult-like group helps. Members of the group will congratulate you and cheer you on, so you feel a bit better.
Who would want to leave a group where everyone thinks you're brilliant, for very little effort on your part. Plus, seeing all those happy mod owners will help justify your purchase.
#4 – Stab wood mods have low tech specs
Even as I'm writing this, most stab wood mods are moving on to the DNA75 board, so take this with a pinch of salt. The most popular stab woods mods however, still use a DNA40 board or an SXJ board.
I feel like today, a DNA40 board is completely useless except MTL vaping. The thing is, most people who buy stab wood mods are MTL vapers, so they have no issues with the DNA40 board.
That's the reason why I'm working on a list of stab wood mods and their complete specs, so you can be more informed about how much they cost and what technology they use.
#5 – Most stab wood mods have "old-school" designs
You'll notice most stab wood mods use a lot of stainless steel plates, C-frames and beauty rings. To me all these are just too old school, but of course this is subjective. Some like this look.
You'll also notice a lot of emphasis on accessories like beauty rings / slant rings and matching stabwood driptips. Even the RDA or tank used has to match the overall look of the mod.
Stab wood mods that focus on using beauty rings have manual-adjusted 510 instead of spring-loaded 510s. This is necessary because the 510 needs to be adjusted to take into account the additional 1mm added by the beauty ring. But that also means more hassle when switching between atomizers.