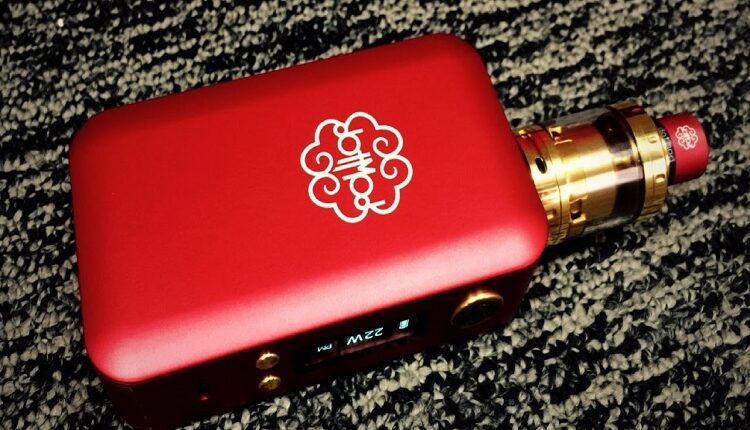 Dotmod Dotbox V2 300W Mod Review – Vape Jewelry?
If you're looking for a nice piece of vape jewellery, you may want to consider watching this Dotmod Dotbox V2 review
The Dotbox V2 by Dotmod is a gorgeous box mod with tons of bling – like 24k gold type of bling..
Like all other Dotmod products, you get the sense that it's going to favor looks over performance, and you're not wrong.
There was actually a Dotbox V1 that used an Evolve DNA 200 board in it. However, V1 saw very limited release, and only a handful of people own one. Then Dotbox went ahead with V2, featuring their own custom board. They also have a Dotbox 75W, which again uses their own custom board.
As I say many times in this video, it's a mistake on their part to do away with the DNA board. They took a huge risk with their own unproven board, but will it pay off?
Lets see some specs for the Dotmod Dotbox V2:
Maximum Wattage Output: 300W

Three-Cell 1300mAh LiPo Battery

Equivalent to 3900mAh 3.7 Cell – 14.4 Watt Hour

Dotmod's Proprietary Chipset

Bypass Mode – Direct Battery Output

Power Mode – Variable Wattage

Temperature Control Output

Supports Ni200, Titanium, and 316L Stainless Steel

Minimum Atomizer Resistance: 0.06ohm

Hard-Anodized Custom Aluminum Shell

24K Gold-Plated Buttons

Available in Blue, Red, and Gold
Dotmod Dotbox V2: Pros
Sexy premium look –

Yes I know it's subjective, but I think the Dotbox V2 looks sexy. Plus, which other mod do you know of that has 24k gold-plated buttons? I love the simple design, and although it feels a bit bulky, it's not that difficult to carry around.

Great build quality –

I think the build quality is just awesome. The anodized paint job, like other Dotmod products, is smooth and feels great.

Works well in power and TC modes –

Although I prefer a DNA mod, I do think that you can get good performance from the Dotmod board in both power and temperature control modes.
Dotmod Dotbox V2: Cons
Confusing menu system –

This is the first time I am working with this custom board. Although it was not hard to use, there are some inconsistencies. For example, when I am already in TC Stainless Steel mode, the board still starts out at Ni200 mode when I access the settings.

Maximum of 24mm atomizers –

About 80% of the atomizers I own are 24mm or smaller, so this is not an issue for me personally. However, it's worth mentioning as a con for those who regularly use 25mm atomizers.

Li-Po battery with no pass-through charging –

I am not against LiPo batteries, but I expect them to have pass-through charging. That basically means you can vape on the device while it's charging. The Dotbox V2 unfortunately cannot be vaped while you have the USB cable plugged in.

No firmware support –

Yes the firmware is upgradeable, but where the fuck is the firmware updater and instructions? I tried searching everywhere, found nothing. This would not be an issue if they went with a DNA board.
Overall, you should see the Dotbox as some form of vape jewellery. It has the bling and it looks sexy. It should be a great conversation starter and stand out among all the cheap SMOKs and Sigeleis.
But, as a performance mod, it doesn't quite deliver. $199 can get you almost all of the excellent DNA mods I list on this page. If you're a beginner, you may want to also check out my guide to buying a vape mod.
For me, this is a keeper. I love Dotmod products, and I already have a few performance mods. So this is a nice piece of vape jewellery that will make me feel important and rich when I need to feel so.