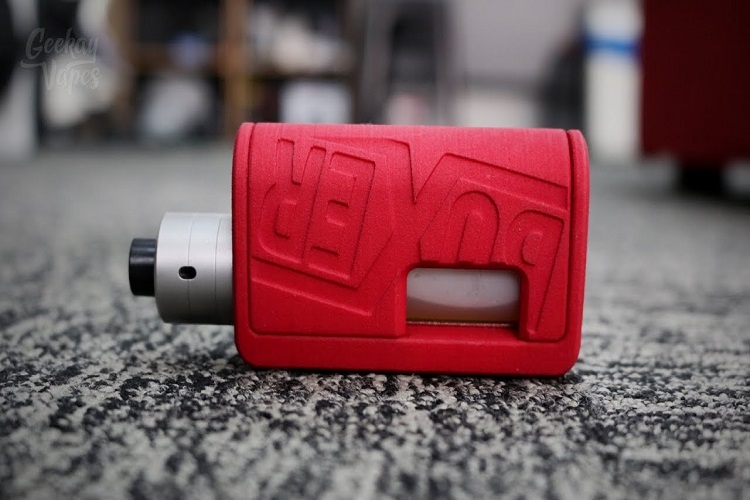 Boxer Classic Squonk Mod Review & Updated Issues
The Boxer Classic Squonk Mod is one of the most anticipated squonk mods in 2017, because is has so many new "innovations" that most people have never had the chance to experience.
It also looks great, and is priced at the perfect price point for a 3D-printed mod.
I bought the Boxer Classic Squonk Mod through a stranger in the US.
Why? Because the Ginger Vaper website refused to accept my Malaysian credit card, and they do not have PayPal as an option. Sure, there was the possibility of paying through BitCoin, but I knew nothing about BitCoin or how it works.
After a wait period of about 3 months (including shipping time), I finally received the Boxer BF Squonk Mod. The longer wait time is due to some last-minute improvements to the contacts, according to Ginger Vaper.
Even after the long wait time and the fact that I had to use someone else to buy it for me, I was happy to receive the Boxer BF Squonk Mod. First impressions were mixed, but anyways let me give you the important details about the Boxer BF Squonk Mod:
Mechanical, Plastic Nylon 3D-Printed mod

Locking switch as the firing mechanism

Uses a single 18650 battery (newer versions use 20700)

Rhodium-plated Beryllium Copper contacts that are supposed to eliminate voltage drops

7ml food-grade "supersoft" bottle designed by Ginger Vaper

Boxer Black BF 510 designed by Ginger Vaper

Ergonomic design, 74.5mm x 25mm x 44.9mm

Available in multiple colors, with seperate "accent packs" for doors / button
Like I said, on paper the specs look revolutionary. In fact I have to give them credit for choosing to design their own 510 and squonk bottle instead of using existing options like the ModDog 510 or the ModMaker 510.
Also, at that time, most mech squonkers had no locking mechanism whatsoever. Great job on taking risks, but did they pay off?
IMPORTANT: The video you watched above was recorded long before this written review, so there will be some new information in the Pros & Cons below that are not in the video.
Boxer Classic Squonk Mod Review: Pros
I love the looks & design –

The design of the Boxer Classic Squonk Mod is what sold it. Unlike other 3D-printed mods that are basically rectangle boxes, the Boxer Classic Squonk Mod looks great and feels great in my hands. The 3D-print of the logo is sharp and eye-catching.

Hits hard, but not the hardest –

For sure, the Boxer Classic Squonk Mod hits hard. The Beryllium Copper upgrade was worth it. However, my Bolt V2 mod hits much harder with just regular Silver contacts.

Great pricing & easy to get –

You don't have to put up with secret Facebook groups. You can go to the Ginger Vaper website right away and

buy a Boxer Classic Squonk Mod

with many different options and accessories. That's a good thing for a higher end squonk mod.
Boxer Classic Squonk Mod Review: Cons
Hit-or-miss firing button –

The locking mechanism is great but comes at a cost. The wobbly firing button can be very difficult to use. In the video's comments you can see that Ginger Vaper has a "reason" for why it wobbles, but it's a damn con. If 30% of the time the button gets stuck and refuses to work, it's a flaw. Nothing can change that fact.

Thin coat of paint / dye –

Out of the box, I already notices the underlying white color in several spots. The dye is pretty thin on the Boxer Classic Squonk Mod, so my advice is to go with the white. You can literally wipe off the dye with a damp cloth or alcohol wipes.

The bottle is way too soft –

I've always wanted softer squonk bottles, as you can tell from my

complete guide to squonk bottles video

. But the Boxer-designed "jelly" bottle is really too extreme. It's so soft that filling up the bottle and putting it back is going to cause a mess on your mod. There's no way you can get past this unless you use a squonk

refill bottle

. The "good" news is that Ginger Vaper also sells those 510 refill bottles.

510 mechanism has major flaws –

This is the part I didn't mention in my video, but my Boxer 510 has already come undone. I think the issue here is with the tiny o-ring inside the 510. You really have to disassemble everything to see this tiny o-ring. It broke apart after a while, and now I have some serious firing issues. Most of the time, I cannot fire anything on the Boxer Classic Squonk Mod. I will update you on this site once I get to the bottom of it.

Poor / unsympathetic support –

I have very limited direct contact with them, since I had to order through someone else. However, I cannot ignore the sheer amount of people who complain about the poor support in the video comments, FB groups and to me personally via PM. Buyer beware.
As you can see, right now I have more cons than pros for the Boxer Classic Squonk Mod. The main issue I have now is the problematic 510. I just cannot fire anything on it now. I have tried fixing the issue, but it's very hard to find a replacement o-ring for the 510.
I will create a separate post on the Boxer issues once I have figured things out a bit. As of now, I no longer recommend it. There are a ton of other options available, just check my ultimate list of squonk mods.
From regulated to mechanical to Mosfet squonk mods, there are better ways to spend your money than on a Boxer Classic Squonk Mod.
There's also a clone of the Boxer if you just want to get a feel for it, but I have not used it and cannot tell you how good or bad it is. Read the reviews and rating before you decide.