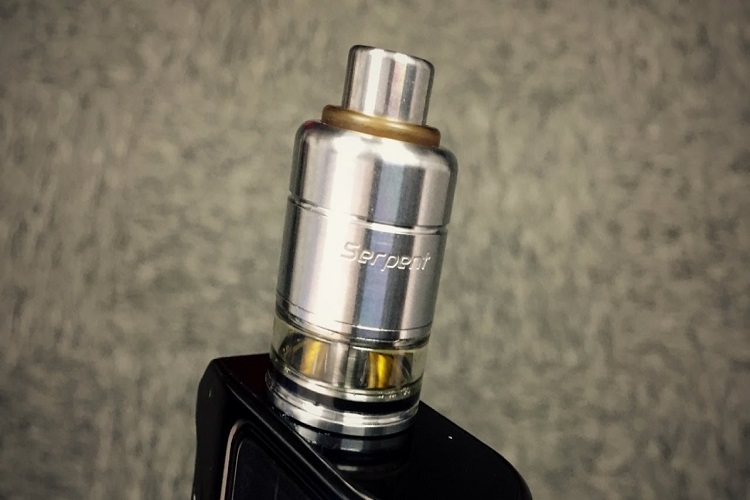 Wotofo Serpent RDTA Review – Sleek 22mm Flavor Chaser
In this Wotofo Serpent RDTA review, I show you this 22mm sleek flavor-chaser which really looks a lot more high-end than it should!Unlike almost RDTAs in 2016, the Wotofo Serpent RDTA is minimalist, has a single coil clamp-style deck and a single airflow slot. If you're looking for the next Ijoy Combo killer, this is not it.Instead, the Wotofo Serpent RDTA is a warm welcome in a saturated 24mm/25mm cloud-chucking RDTAs.Here are the specs for the Wotofo Serpent RDTA:
22mm diameter x 41mm height

2.5ml juice capacity, side-fill ports

Stainless steel construction, glass tank

Ultem 510 driptip adapter / delrin wide bore driptip

Single-coil, clamp-style deck

Adjustable side airflow
Let's get on with the actual Wotofo Serpent RDTA review with some good ol' pros and cons, shall we?
Wotofo Serpent RDTA Review: Pros
Excellent build quality

– Like other Wotofo atomizers, this one is machines really well. Threads are smooth, o-rings are snug and I never had a leak from the tank.

Easy-to-use build deck

– The clamps work really well. As you can see in the video, I was able to slide in my coil and clamp it down with zero hassles. Even some of my more expensive RDAs aren't as easy to build on.

Easy to fill –

Most 22mm atomizers are a pain to fill. Not this one! You can get your glass dropper tips right into one of the holes and fill up really quickly.

Flavor is great –

With a small deck diameter, and a reduced topcap, you get amazing flavor. The coils are pretty close to the driptip, so wick properly or you'll also get some spitback.

Looks really good –

Looks are subjective, but I can compare the Serpent RDTA to more expensive stuff like the Snapdragon, and it looks like a high-end atomizer just like any of them.
Wotofo Serpent RDTA Review: Pros
Topcap gets warm –

Since the topcap is stainless steel, it's going to absorb and retain heat. So after a few hits you'll notice that it can get really warm. Again, this depends on your build and how open your airflow is.

Stainless steel driptip –

The ultem adapter helps insulate the stainless steel driptip and prevent your lips from touching the warm surface, but you'll eventually end up using the wider bore delrin tip.
Overall, I really loved it. Of course my Wotofo Serpent RDTA review is based on my preferences for smaller, flavor-chasing setups. But, I think this one is better that the original Geekvape Avocado 22mm and many other RDTAs in the same category.For the price of $24, it's a steal and you just cannot be disappointed with it.