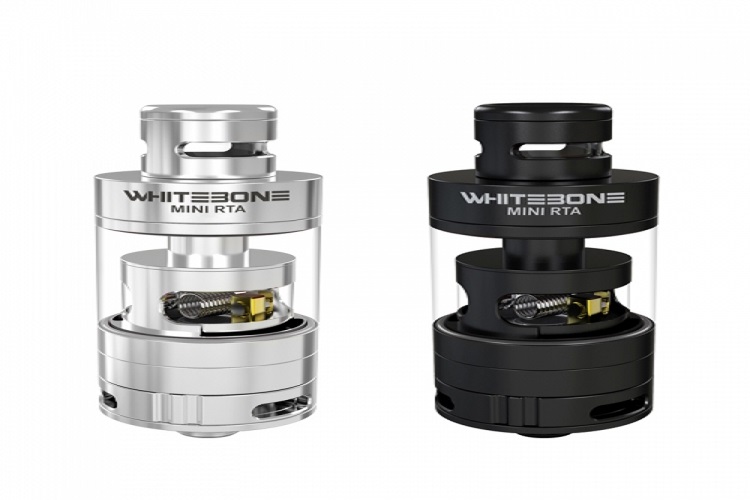 Oumier White Bone Mini Review
The Oumier White Bone Mini is more similar to the Wotofo Serpent Mini, but carries some signature features from the regular White Bone RTA.
In this review of the Oumier White Bone Mini, I hope to show you exactly how it works, and how to do a proper build on it.
Here are some specs for the Oumier White Bone Mini:
Stainless steel construction with glass tank
Top filling design, with 2ml juice capacity
Gold plated positive post for single-coil build (similar to Serpent Mini)
22mm overall diameter
See-through build deck, glass inserts on driptip
Watch the video for the full review, but here are the main pros and cons..
Oumier White Bone Mini Review: Pros
Great build quality – I cannot fault the build quality at all, good machining and threads are smooth. The o-rings hold up pretty well.
Simple build deck – The build deck is the closest to the Serpent Mini that I have seen. It's easy to get your coil in, build and wick. Maybe I show do a Serpent Mini Vs White Bone Mini video to show you what I mean?
Juice flow control that works – Unlike a lot of small tanks I've seen recently, the juice flow control on the White Bone Mini actually works. Plus, once you figure it out, it actually works pretty darn well!
Oumier White Bone Mini Review: Cons
Too much glass – The idea of being able to see your build and wicking becomes a bit lame when you realized that all you can see is condensation. I hate to see condensation on my driptips as well, which is why I do not use glass driptips.
2ml juice capacity – Yes I understand this is for the TPD, and yes I know that even the Serpent Mini is 2ml. But that doesn't mean I cannot hate the 2ml tank on this one. I need more!
Overall, I loved vaping on the Oumier White Bone Mini. However, I am not 100% sure if this is going to make it to my daily rotation. To do that, it has to beat the Serpent Mini and the Goblin Mini.
Well, actually it just has to beat the Serpent Mini
The White Bone Mini is a darn cheap, effective flavor-chasing RTA. Just forget about the driptip and try not looking at the condensation (arrrrrgghhh!) and you'll be loving the vape you get from this.