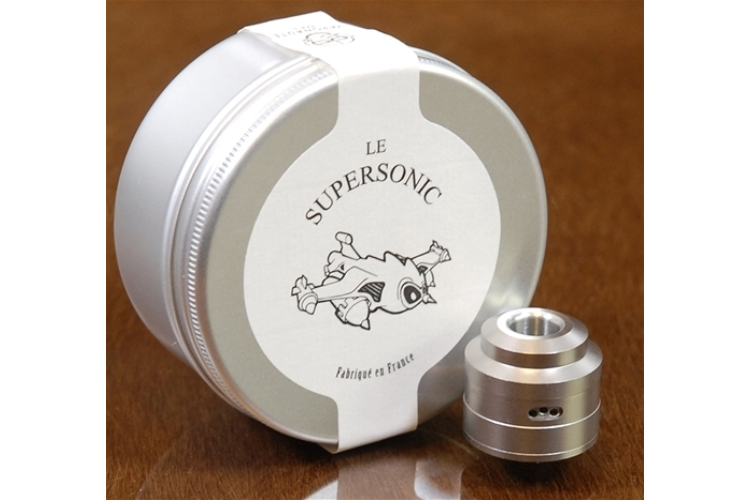 Vaponaute Le Supersonic Review & QC Issues
After the success of the Le Concorde by Vaponaute, many people were excited to hear that the new Vaponaute Le Supersonic was coming soon. Rumour was that it took everything good from the Le Concorde, but added more airflow. Initially, there was conflicting reports whether this was a 22mm or 24mm atomizer.
Eventually, it was clarified that the Le Supersonic would be a 24mm, which kind of turned some people off. I was still excited and got to the local B&M early morning on launch day to get one.
For whatever reason, Vaponaute decided to release this so close to Christmas so I knew that I had to get one before I took time off to celebrate Christmas. Based on the past response for the Le Concorde, I thought the Vaponaute Le Supersonic would be sold out after Christmas.
As you know the boxes are sealed, and I was expecting to find the usual Vaponaute-grade quality product inside. I was in for a shock with this one.
What I noticed immediately was the poor finishing. As I show you in the video, there were little nicks and dings all over the topcap, and also on the deck. Shocking, especially from Vaponaute.
Still, I proceeded to use it and had my review up before Christmas because I knew a lot of people wanted to see my review.
So here are the specs for the Vaponaute Le Supersonic:
316 stainless steel construction with PEEK insulators

24mm diameter and 21mm height (without driptip)

Side airflow controls, 3x 1.5mm holes per side

Bottom feeding pin and regular 510 pin included

Comes with the Vaponaute "seal of quality" lol
Yeah, there's really not much to say since there are no gimmicks to this thing, just a straightforward RDA meant to fine-tune the art of flavor-chasing.
Vaponaute Le Supersonic Review – Pros
Great-looking RDA –

Yeah I love the looks, and the choice of finishing. I am not sure if it is sandblasted or media blasted, but it looks good. I love the shape of the RDA and the fact that it looks great on a lot of mods I own.

Smooth restricted airflow –

This is what made me fall in love with the Le Supersonic. Unlike a lot of other RDAs I have tried that gave me either too much or too little airflow, the Vaponaute Le Supersonic was just perfect for how I like to vape. Zero turbulence, zero noise, just smooth airflow.

Amazing flavor –

Smooth airflow results in sharp, pronounced flavor. I could not put the Le Supersonic down for days after I recorded and published this review, so I can double-confirm the amazing flavor.

Easy to build on –

This will not be the case for larger coils, but I had no problem trapping my fused

claptons

with those screws, and I didn't need to fiddle around with clamps or other gimmicks to get it up and running.
Vaponaute Le Supersonic Review – Cons
Pretty steep price –

Now I have no problem buying a higher-end RDA, but this was pushing it at $150. The fact that this is a limited run like all Vaponaute products kind of clouded that, but the fact that a lot of Le Supersonic RDAs are still available today hints that it may have passed the acceptable price range for something like this.

Horrible finishing –

The thing that makes the price even harder to accept is the horrible finishing. The screws were bad as well. I know that this is not the case for every Le Supersonic unit shipped, but a lot of people received the horrible ones like I did.

24mm diameter –

Personally I do not have an issues with 24mm, but a lot of high-end squonk mods fit a 22mm RDA only. Anything larger will result in an overhang.

No driptip or extras –

It's your typical Vaponaute product with no driptip, and as I did with the Le Concorde review I have to list this as a con. However, I don't think Vaponaute is ever going to budge on this one.

Horrible finishing –

I have to list this one again, as I am still shocked by how something so poorly checked got through the Vaponaute QC.
Yes, I love the Vaponaute Le Supersonic.
This is true as I'm writing this post about three weeks after the video. I love it because it's giving me a fantastic vape, with smooth airflow and sharp flavor.
Yes I am pissed of with the QC fuck up. I do envy the people who received proper units without all the issues I had. Surprisingly, amid all the complaints by users across MANY Facebook groups, Vaponaute has been silent on the issue.
I will contact them and get them to comment on this massive QC fuck-up for sure. They should reply and address the issue properly, or bye-bye Vaponaute as far as squonking is concerned. In future, I will open the box in the shop and return it immediately if I see shit like this again.
I cannot just assume I'm going to get a quality product from Vaponaute anymore. Shame on them for being idiots.