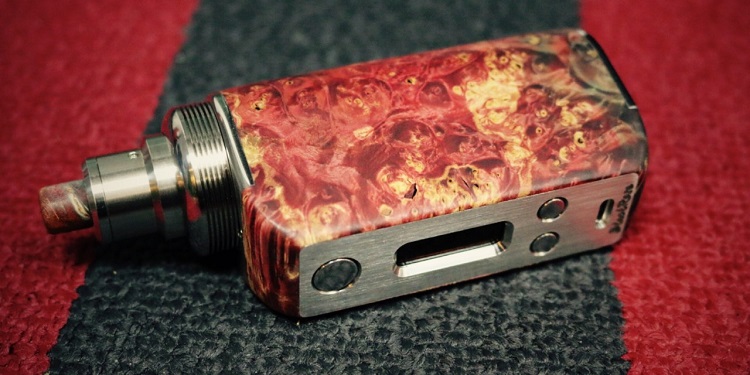 My Stabwood Mods Collection & What I Love About Each
So we're talking about stabwood mods again today, and I want to show you my small collection of stabwood mods. Most of these are pretty recent. Other than the mistake I made when getting my first stabwood mod, I equally love all of these mods.
There are some regulated mods, some mechs, and some squonk mods. In the video I show the off, but let me list them here:
DPM / Nataraki (RRP $400+)-

One the best purchases for me. It uses the Yihi SX350J chip than can do up to 75 watts. Sure the technology is slightly old, but it's still perfect for how I vape. The red color and burls on this mod is like a painting.

AxisVapes M17 Mini (RRP $300 – $605) –

I have two of them, and both are hybrid mods. I got the Purple / Red mods just months before AxisVapes decided to exit the vape business. Both are DNA75, and I love the modern looks.

Blackrose Evo V2 Green Raffir (RRP $650) –

I bought this at a vape fair, and had it upgraded with matching "heat wave" buttons from the same material. The Raffir material is so beautiful, and this is one of my best mods even though green isn't really my favorite color. Powered by DNA75 and uses a 26650 battery.

Available through the Blackrose Facebook group.
Blackrose Baccara (RRP $750) –

This is one of the newer mods I purchased, and the previous owner was generous enough to let me have it. Again here, I love the colors and the texture looks like brush strokes. The orange, red and purple mix is so vibrant. Uses a DNA75 and either 18650 or 26650.

Available through the Blackrose Facebook group.
RC Mods Squonker (RRP $320) –

This is the only mod in this list that I handpicked the wood, and got it turned into a mod. Done by Roman Chekorin, its larger than a lot of mechanical squonk mods but it looks so unique. I will be upgrading the 510 on this mod for better performance, but it is otherwise fantastic.

Available through the RCMods Facebook group.
GProv Hepha Squonk Mod –

One the most recent additions to my collection. This is a mechanical squonk mod with a Mosfet switch (you can call it unregulated or semi-mech if you want). I love the vibrant colors.

Available through the GProv Facebook group.
MFM Custom Mech Mod (RRP $120) –

This is the only stabwood

mechanical mod

I have. I love the colors but I no longer use mech mods regularly, so I might be selling this one.

SMD Ghost Dragon (RRP$450) –

The latest addition to my collection, with a freeform design, stabwood faceplate and buttons, and exposed stainless steel tube. Powered by the DNA75 board, and very petite. It is also the only mod I have that uses a catchcup for the 510.
So… those are my mods, but I do have a few inbound soon. I do believe the trend nowadays is in freeform / freehand mods that do not use C-frames. My SMD Ghost Dragon is an example, with stab faceplates and freeform factor which means more work. And that of course, means more value.
If you're thinking about getting stabwood mods, take a look at my stabwood pricing guide here and watch my video on how to buy stabwood mods.