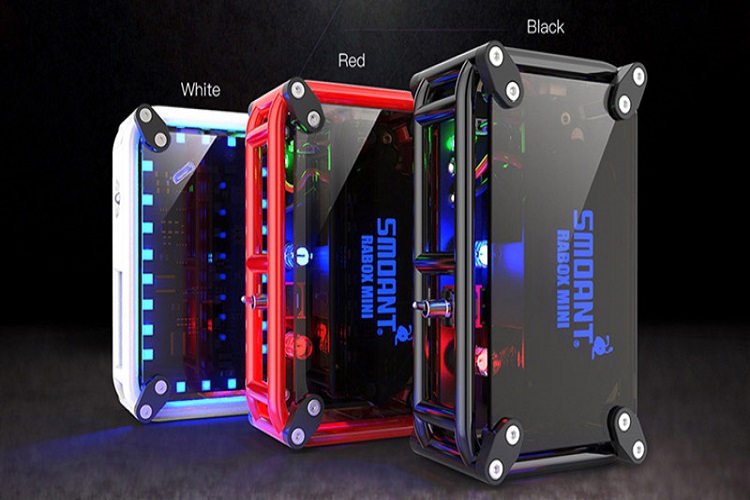 Smoant RABOX Mini Mod Review
The Smoant Rabox Mini Mod is the small version of the Smoant Rabox which made heads turn not too long ago. Designed to look like a gaming computer CPU unit, it was aggressively styled and became very popular among some vapers.
Of course, the size was a turn off for some people. So it makes sense that Smoat would want to take the best out of the Rabox and put it into a smaller package.
Here are the basic specs for the Smoant RABOX Mini:
Retails around $85 and available in black, red or white
304 stainless steel construction with high-temperature resistant ceramic paint
Dimensions of 31mm x 55mm x 86mm
120W maximum output with 3300 mAh Li-Po battery
3.2V – 5.0V voltage range
0.1 ohm – 5.0 ohm Supported resistance range
Nano waterproof and dust-proof technology
7 different LED modes
Three gears to adjust the output
There are some improvements over the Rabox, but you might not be able to tell the difference. Mainly, the PCB / board is now water resistant.
Smoant RABOX Mini Mod Pros
Unique-looking – You have to agree that the Rabox doesn't look like any other vape mod out there. Or rather, no other vape mod (forget the Wismec one) looks like it. You can actually see the components of the mod, wires and all.
Aggressive design – The design styling is pretty aggressive, with bright colors and LED lights. I would say it's a subjective Pro because you either love it or hate it. I believe this is targeted towards the younger vaper, so I'll stay out of the debate
Hits hard and instantly – One thing that the Smoant Rabox Mini shares with the original Smoant Rabox is that it hits hard and instantly, perfect for cloud chasing builds.
Waterproof internals – Without this feature, the Smoant Rabox Mini would be a complete failure. No one wants a dead mod after overdripping and seeing the juice seep into the mod itself.
Smoant RABOX Mini Mod Cons
Size and shape – It's no doubt that I would no consider this mod as "ergonomic" in any sense. Although the Smoant Rabox Mini is smaller than the first version, it's still a pretty large mod.
No temperature control – This is not a TC mod, so don;t get it thinking of using temperature-protected coils or setups.
Overall, the Smoant RABOX Mini is a great mod for a hard-hitting, cloud-chasing vape. If you're 37 like me, you might think it's just too loud and obnoxious. But keep in mind, there's a huge teenage market for things like this. They love it loud and obnoxious, as a sign of their "adulthood" lol..
You can pick up the Smoant RABOX Mini from Ave40.com using the link below. Check out also their coupon program that I announced on this site not too long ago.
Get The Smoant RABOX Mini Mod Here