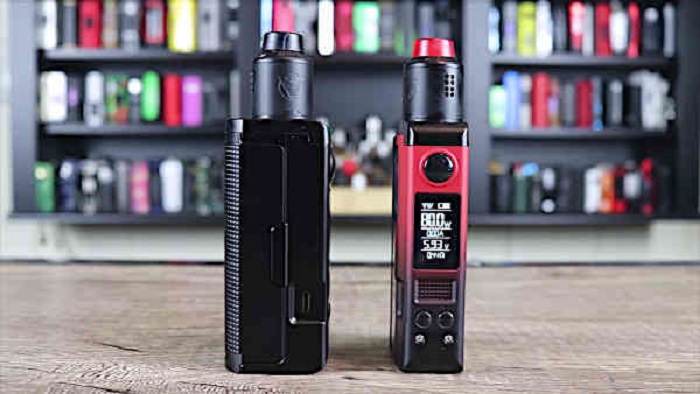 Kanger Dripbox Review & Velocity RDA Alternative
I'm excited to present my Kanger Dripbox review – and you are going to love it!
I have been waiting for my Kanger Dripbox for what seems like ages, and when I finally received it in the mail (from FastTech) I ripped open the package and vaped on it immediately.
In this video, I explain what a squonk mod / squonking is, show you the squonking mechanism on the Kanger Dripbox, and talk about the unique, removable Subdrip coils.
I also show you a cheap alternative RDA to replace the very basic (but decent) RDA included in your Dripbox starter kit. It's the Velocity RDA clone from Fasttech!
I purchased the Velocity lone a very long time ago, but couldn't figure out what the weird replacement 510 pin was for, until I started reading up about squonking, which was after I saw that teaser video from Kangertech.
In fact, I prefer vaping with the Velocity RDA clone because it has better AFC (Air Flow Control) options and a velocity deck that makes it so much easier to build and wick with.
Here are the basic specs of the Kanger Dripbox:
Comes as a kit with a mod, an RDA, replaceable coils and spares
Stainless steel body construction for the mod
7ml juice capacity for the squonk bottle
The RDA has a dual post design, with side adjustable airflow
22mm overall diameter for the RDA
Max 60W output unregulated mod that works like a mechanical mod, but with basic protection
Houses single 18650 battery
Comes in black, red and white colors
Kanger Dripbox Review: Pros
Simple device for beginners – There's just the fire button to worry about. With the included 0.2ohm coils, you can get a pretty good vape without having to worry about all the technical parts of vaping.
Replaceable RDA-style coils – Before the dripbox, beginners who didn't want to build their own coils could not get a taste of how an RDA vapes. Now they can, with easily replaceable coils. Brilliant!
Portable and hassle-free – The Kanger Dripbox is a compact device, and is very light. You can easily bring this with you everywhere you go, without having to drip constantly.
Damn affordable – The price is so good for the Dripbox, that other companies gave up trying to create something that can compete. Many people get two, one as a gift to smokers.
Kanger Dripbox Review: Cons
The Subdrip RDA sucks – The included RDA has a cheap and flimsy feel to it. The airflow feels turbulent, and many people had issues getting it off the mod during initial use.
Not enough power – For people who love to use Clapton coils, the Dripbox just does not have enough power for a dual-coil Clapton build. You will notice a long ramp up time, and shorter battery life.
Overall I think the Kanger Dripbox is a great product at a great price, and perfect for you to get your toes wet in the world of squonking! I just can't stop saying that now – SQUONK SQUONK SQUONK!
Get all the stuff you see in this video:
There are other Velocity RDA clones out there, but only this model comes with the squonking pin, as fas as I know.
If you're into squonking, check out my compilations below: