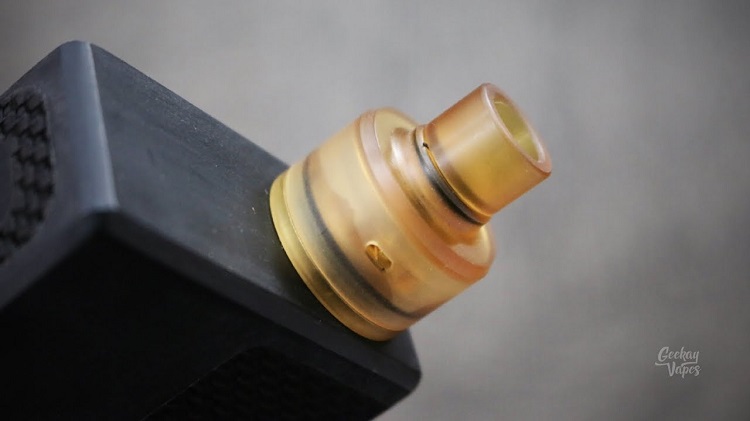 The Ultimate RDA Level 1 by GoM
So this written review of the Ultimate RDA Level 1 by GoM (Guild of Modders) is a bit late. The video review on YouTube was published much earlier.
Still, I think this review means enough to earn a spot on my website. Not all YouTube reviews make it here. So obviously this one is still worth talking about.
The Ultimate Level 1 (version 1) by GoM made waves when it was featured in a FlavorChasers.com review. In fact that's how I heard about it. If I'm not mistaken, it got a 9.9/10 rating on FlavorChasers.
(For the record, the rating on FlavorChasers is fucking useless, everything is a 9+..)
The central concept of modular airflow – you're able to change airflow styles and positions easily – attracted me to the Ultimate. I eventually managed to get one through a friend in the Philippines.
It costs $90, and the packaging has changed since. GoM is also supplying slightly thicker o-rings due to many people having issues with the spinning deck. However, the core part of the Ultimate Level 1 remains the same.
Basic specs:
22mm diameter, slammed ultem cap

510 driptips, but none provided with the RDA

Ultem airflow control ring that is removable

Dual posts design with screws, similar to the Narda

Gold-plated bottom-feeding pin included

Additional Ultem AFC for larger builds (3mm)

Comes in a wood cylinder box with extra o-rings
So here we go, my honest review of the Ultimate Level 1 by GoM PH.
GoM Ultimate RDA: Pros
Brilliant modular concept –

70%-80% of what makes an RDA unique is the airflow, in my opinion. With the Ultimate, the choices of airflow are limitless. Although at the time there was no news of anything other than the Narda-style airflow, GoM have recently announced a

Haku

/ O-atty style airflow for the Ultimate.

Minimalistic design –

I have loud designs with logos and other design elements that take away from the RDA. The Ultimate RDA is simple, short, and minimalist. It doesn't even come with a stainless steel cap, since they are practically useless in a slammed RDA anyway.

The best flavor RDA –

Well, for me at least. The flavor that I managed to get from the Ultimate RDA is second to none. Sure, I do not have a Narda for comparison. But at the time of review I did have others like the Armor, Hussar RDTA, Haku and Gambit. The Ultimate beat them all in terms of clean, pure flavor.

Incredibly smooth airflow –

This is really subjective. It depends on how you build, how you wick, the ID of your coils, etc. However I would say that after a few attempts, I was able to get perfect smooth airflow from the Ultimate RDA.
GoM Ultimate RDA: Cons
Doesn't feel high-end –

From the looks to the packaging (excluding the box), it doesn;t feel like a high-end atty. I think it's hugely due to the cheap ziplock bags used, and the fact that the bags themselves are stuffed with paper towels to protect the pieces. Small changes here – harder ziplock bags maybe? – can significantly improve the overall perceived quality of the Ultimate RDA.

Complicated buy process –

In order to get one, you have to join their Facebook group and wait for a list. However, you might also be able to pick one up easily if you catch GoM at any vape fair, mostly in the Philippines. I had to seeks the help of my Filipino friend to get one from a vape fair. I owe him one!

Spinning AFC ring –

This is the main issue most reviewers had. The Ultimate RDA is very dependent on the two key silicone rings, one on the AFC that holds the topcap, and the other on the base that holds the AFC. When I first got it, my ultem AFC ring kept spinning around when I tried to tighten or loosen the RDA. That messed everything up. After swapping the AFC o-ring with the one in the spares, the problem disappeared.

Fussy build deck –

If you love the

Narda

you won't feel like it's a difficult deck to build on. For others, the two-post deck with screws may seem like from a different era. If you do not insist on using complex coils – stick to round wire or round Claptons – you will not have a nightmare building on the Ultimate RDA deck.

No driptip included –

I say this for every high-end RDA; please include driptips! It can be difficult to get one that complements the overall look of the Ultimate RDA, and it would have been much better if one was included.
GoM Ultimate RDA: The Future
I was annoyed, delighted, sad and amazed by the Ultimate RDA all at the same time. As you can see, I listed an almost equal amount of pro's and cons.
To be honest, I decided to sell my Ultimate RDA after the review. Then, I decided to try one more time, with one more build. This time, I would build according to what the Ultimate RDA can take and is designed for, instead of trying to force massive coils into it.
Just like that, my mixed feelings about the Ultimate RDA turned into pure love. This was after the review above was recorded, and I had no other issues with the AFC. GoM has fixed the o-ring issue, and I respect their professionalism in light of so mane negative reviews.
I also heard from Dave Cho that he is not giving up on the project. He has planned some black Delrin caps, Haku-style airflow, and future improvements. The best part is that due to the modular design, all these new things will fit the Ultimate RDA that I have.
Wow.
The Ultimate RDA has grown on me. It is quickly becoming my #1 flavor-chasing squonk RDA setup. It's an acquired taste.
Love it or hate it, but you cannot ignore it.