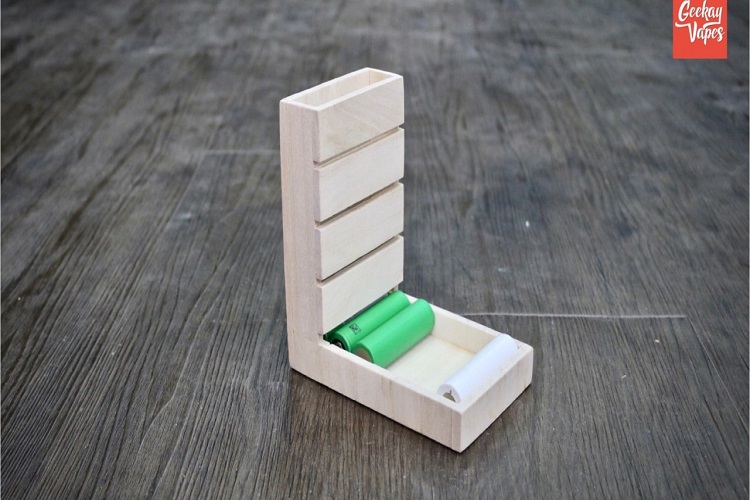 Making My Own 18650 / 20700 Battery Dispenser
Yes.. been doing a lot of DIY recently – my DIY squonk mods series, making my own squonk stand, and more recently my own stabwood doors for squonk mods.
It's not going to stop. I've already bought the Dremel 4000 and Dremel Motosaw along with a lot of other smaller tools, so it seems easy now to just create stuff.
Believe it or not, battery dispensers are hard to come by. I've seen a 3d-printed 18650 battery dispenser once in a Facebook group, but I also have 20700 batteries. Feeling bored, I decided to just wing it and try creating my own battery dispenser.
The idea is simple. You have a container that holds batteries vertically, and pushes some out. When you remove one from the bottom tray, the stacked batteries will push out one to replace it.
You just placed your fully-charged battery right on top, and you'll always be sure of giving all your batteries equal usage. Simple concept.
I could have probably planned it and drew something out, but I was up for an adventure. So I just turned on the Dremel Motosaw and used some thin pieces of wood I got from Daiso. These were the leftover wood from creating my own squonk stand.
I just used by 20700 battery as a template, and did some basic measurements on a few pieces of wood. I cut them all pretty fast using the Dremel Motosaw, and stuck them together with wood glue. It took me about 2 hours of work to get this done.
Does it work?
Yes, although it needs some fine tuning. A little bit of sanding left to make sure that the batteries do get pushed out properly. Right now, some re-wrapped batteries seem to not get pushed out very well. Also, I should probably slope the tray a little bit to take full advantage of gravity.
Plus, I will also be finishing the wood. I'm not sure if I want to use the same finish from my squonk mod, or just paint it. I will probably use the same finish, simply because there's a lot left of it and I don't want to spend money.
DIY is fun. You can create all these small trinkets and tools pretty easily, and save a lot of money.