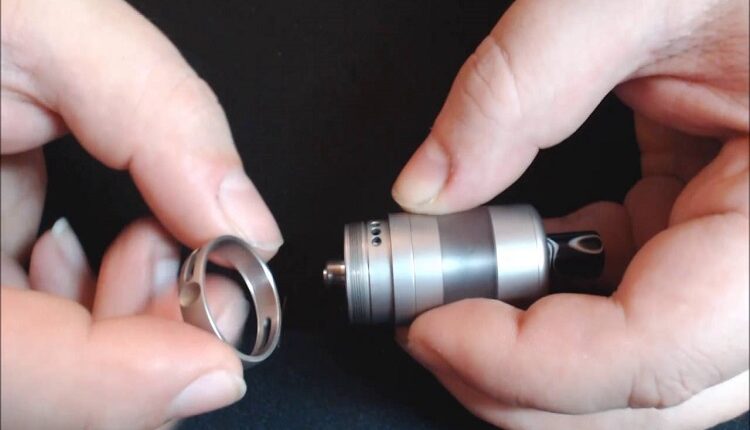 Rose V3 Clone – An Awesome RTA!
The Rose V3 clone I review in this video is a great clone, but in reality there are a few good clones out there, each slightly different. Use this link to see all the clones and check out the ratings to see which one you should buy.
The authentic Rose RTA by Eden Mods costs about $175, the clone costs between $19 – $22.
Here are the specs for this Rose RTA clone:
22mm in diameter, 59mm in height
Teflon drip tip with additional MTL driptip
PC tank with 4ml juice capacity
Stainless steel posts and 510 contact
PEEK insulator
Adjustable airflow control ring (using spring wire)
Comes with a spare 5ml stainless steel tank
Rose RTA Clone: Pros
I love the the way it looks, classy and unique
The post-less deck is easy to build on and wick
The airflow control works perfectly and easy to fine tune
The vapor production and flavor is great (depends on your build)
The airflow is smooth and easy to weak with the AFC ring
Rose RTA Clone: Cons
The post screw for the negative deck doesn't seem to tighten down 100%, although I didn't try swapping it out with another from the spares kit
The juice flow control depends on the driptip. You can try using other driptips with strong o-rings but I doubt it will be as good as the included driptip
The spring wire is so easy to lose. Putting it back in place is not that difficult, as long as you don't lose it.
The flavor and vapor that I get from this Rose V3 clone is just amazing, and I mean AMAZING! It trumps some of the authentic, over-hyped tanks I've tried this year.
If you can get afford the authentic you absolutely should get one. Otherwise, the clone is a no-brainer at such a low price.
Click for Rose V3 Clone Best Price